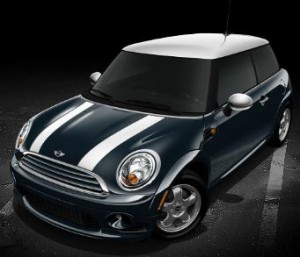 Sirius XM Radio and MINI announced today that the 2011 MINI line will come standard with a 1 year subscription to "Sirius Everything". The news coincides with additional announcements that BMW motorcycles will also feature Sirius on radio equipped models.
"We are very excited to offer SIRIUS as standard equipment on 2011 MINI vehicles, as it ensures that every MINI includes a well-rounded selection of in-car entertainment options," said Jim McDowell, Vice President, MINI USA. "SIRIUS is fully integrated into all three of the MINI infotainment options, and allows MINI owners to further personalize their MINI driving experience at the push of a button."
MINI is part of the BMW group, and has offered Sirius for quite some time. The real news here is that it is being featured as standard equipment on all MINI's going forward. For Sirius XM this represents a strategic move as the MINI demographic lines up quite well with the demographics attracted to satellite radio.
"MINI drivers appreciate efficient performance and value, and now all new MINI owners will be able to enjoy SIRIUS with its broad range of diverse content," said Steve Cook, Group Vice President and General Manager, Automotive Division, SIRIUS XM Radio. "By including a one-year introductory subscription, MINI drivers can enjoy the best in-vehicle audio entertainment beginning with the first time they start-up their new vehicles."
The numbers will not be huge in terms of sales given that MINI sells about 5,000 cars per month. However, the take rate with MINI must be such that Sirius XM saw fit to go after this deal making it a standard feature. Moves such as this help keep metrics such as "Take Rate" and "Churn" in acceptable areas. Watch for the company to roll out similar strategic deals like this in the coming months. The BMW motorcycle deal is yet another example of the company expanding availability in a smart, effective, and ultimately profitable way.
Position - Long Sirius XM Radio