Mercury has once again begun packaging Sirius Satellite Radio with three years service in select vehicles. Last year, a similar promotion saw a spike in Mercury sales, especially when compared to the "sister" Ford models.
On an overall basis, the Ford badge saw a decline in sales of 9.4%. Mercury saw a sales increase of 9.7%. This represents over a 19 point spread in sales percentages. This past May, the Mercury Mariner saw sales increase by 87%, an impressive jump to say the least. How did the Ford Escape, the twin sister of the Mercury model, compare? Sales were up 13.5%.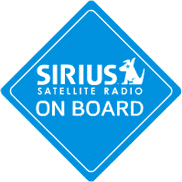 Mercury Milan – Up 13%
Ford Fusion – Down 4.4%
Mercury Montego – Down 38.4%
Ford Five Hundred – Down 52.6%
Mercury Mariner – Up 87.1%
Ford Escape – Up 13.5%
Mercury Mountaineer – Down 29%*
Ford Explorer – Down 17.3%
*[This was the model Mercury did a 3 year Sirius promo in 2006. That promotion last year saw a 50% climb in sales. Additionally, that promo was combined with 0% financing makes a hard comparison, kind of like the Stern effect impacting year over year comparisons.]
What this shows is that the American consumers seem to be shifting to cars that are more fuel efficient, but also that there would appear to be some sort of attraction that Mercury is getting from their decision to market a 3 year Sirius package with their vehicles. This indicates that consumers see a value in getting satellite radio for three years built into the cost of the vehicle.
Will figures such as these make more automakers commit to buying and bundling satellite radio subscriptions into cars? Only time will tell, but clearly there is strong indication that it can draw consumers. Seeing sales improve by such drastic percentages, especially when compared to the more popular sister brand gives a lot of credibility to moving in this direction.
A deeper consideration that should also be considered is this. Because the price of a three year subscription comes with the price of the car, is a consumer more likely to add a second account for their home at the family plan rate of $6.99 per month. I would think that the answer is yes. It would be interesting to see the statistics on this.
Position - Long Sirius, Long XM, No Position Ford