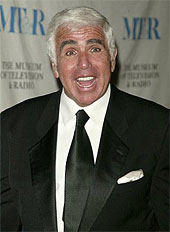 Mel Karmazin is slated to appear on CNBC within the hour. Stay tuned for details.
UPDATE: The Jolly CEO (right) of Sirius Satellite radio was on Street Signs with David Faber just a few hours ago talking about, what else, the challenges with the SATRAD industry. During the interview at Sirius headquarters Mr. Faber asked Mel what he thought the chances of the merger being approved were, to which Mel responded with "100%."
Just in case you missed it, because of my short notice, head over to CNBC to see the video. Check out a couple of minutes in where Mel says "The analysts don't get it and that is not surprising that sometimes analysts don't get it."