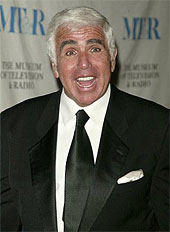 The Howard Stern Show offered up a real treat this morning as Howard interviewed the CEO of Sirius, Mel Karmazin. The main topic of conversation during the interview was the big merger deal.
Mel said this deal has always been in his sights since he came on board a couple of years ago. When asked about the odds of this deal going through Mr. Karmazin said that this isn't something he thought up on his own, he has obviously sought legal advice on this and they wouldn't be going through with it if he didn't think he could make it happen.
As the interview continued Howard asked Mel to address the consumer issues. As it stands now fans of MLB and NFL have to pay $25 to subscribe to both services. Mel said that there is no anti consumer issues and that the only thing that is anti consumer is Sirius and XM having to compete with each other…well played Mel. Howard then went to the phones where a caller asked about pricing issues to which Karmazin responded with the fact that in the past they charged $12.95 they then went on to acquire pricey contracts such as Howard Stern and NASCAR yet they still charge $12.95.
In true Howard Stern fashion he went on to try and get the high profile CEO to crack on air. After asking Mel if he was nervous about the upcoming hearings, Howard made a point to remind him that this deal involves billions of dollars and millions of people are counting on this deal to go through so, don't screw this up. Howard then posed challenge stating that if Mel was not successful then two members of his crew, Sal and Richard, should be able to teabag him. He then closed out the interview by asking Mel how he felt about Howard's merger, asking him "should I be doing some more banging or should I be getting married." Mel said that he would rather see him get married since it was better for business, citing that fact that after his divorce from his long time wife Howard's work and ratings suffered.