With the best showing in years for several auto makers, sales in May of 2014 topped 1.6 million, well above the 1.44 million we saw in May of 2013.  This also represents the second consecutive month that auto sales have demonstrated substantial growth over the year prior.
This is good news for SiriusXM in that about 70% of the new cars sold in the United States are equipped with Satellite Radio.  May sales came in at 1,604,864 units.  So far in the second quarter sales stand at 2,991,472 units, while year to date sales stand at 6,724,605 units.  The pace for 2014 is above 16 million units.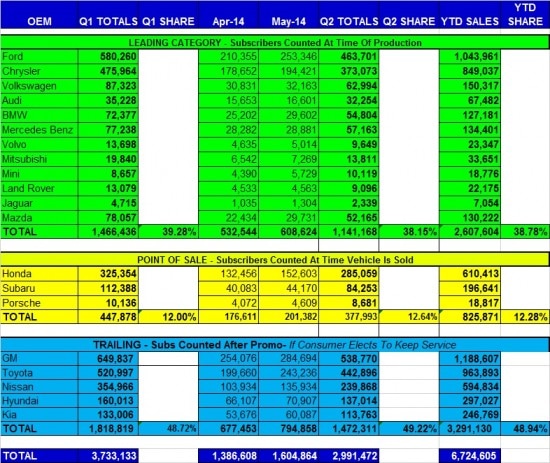 The sales breakdown shows a shift in Q2 toward the trailing category of the OEM pool.  These are trials that are not counted unless the consumer elects to keep the service after the initial three months free.  It is months like this one, where GM has almost 300k in sales that the subscriber number really feels this.
All in all, I feel a lot better about auto sales in 2014 seeing the results for May.  Stay Tuned!