The retail satellite radio sales for May 2007, as tracked by NPD, have been released. For readers not familiar, NPD tracks sales of items from many retailers and generates reports tabulating sales totals. NPD does not track all retailers (Wal Mart, many on line sales, and sales directly by Sirius and XM are not in the NPD numbers) but does capture Data from Best Buy, Circuit City, Radio Shack and others. The NPD data points to trends at retail. Investors can subscribe to NPD to get detailed reports with sales figures by SKU and retailer on just about any sector you can think of. Visit NPD for more information.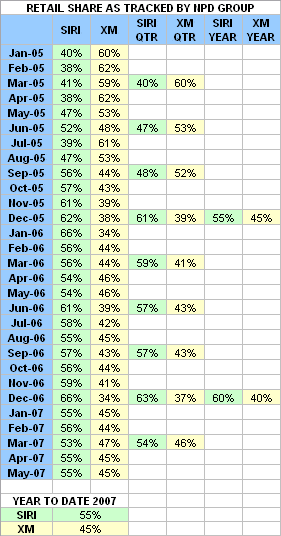 Retail Share For May

This represents 21 consecutive months that Sirius has maintained a retail share edge as tracked by NPD.
Year Over Year Comparison

Sirius – Down 22%
XM – Down 26%
Sector – Down 23%
The sector was down 24% on a year over year basis last month, so this represents an improvement. The year over year comparisons have been difficult due in part to a large influx of subscriptions in 2006 for Howard Stern. YOY comparisons going forward should look better, and reflect retail sentiment without a Stern comparison.
Month Over Month Comparison

Sirius – Up 17%
XM – Up 19%
Sector – Up 18%
The sales in the sector have picked up, and with Father's day, June should see another rise in retail on a sequential basis.
Position - Long Sirius, Long XM