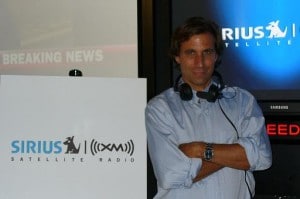 Sirius XM Radio's Chris Mad Dog Russo is not officially launching until September 15th, but today, everyone was treated to a live show broadcast from the ESPN Zone in Times Square. Being right down the street I swung by the Zone to catch a bit of the show, and introduce myself to the latest Sports talk host on Sirius XM Radio.
Russo was his usual self on the microphone, and was in the midst of an interview with NFL commissioner Roger Goodell. Lookers on were treated to a live show, and while the crowds were not amassed yet, I went made it a point to swing by prior to what will be a rush of people stopping by after 5:00 PM.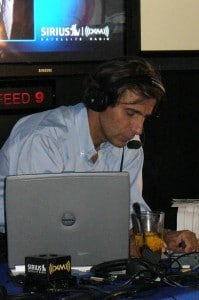 ESPN Zone was decked out with some Sirius XM radio banners, and if you are looking for a cool dinner with live entertainment via Chris Mad Dog Russo, try to get into New York prior to 7:00 PM.
When the show went on break, Russo was kind enough to carry on a quick conversation with the people watching the broadcast. I introduced myself, and Russo beamed a big smile, stating it is great to be on board with Sirius XM and broadcasting to a national audience. I congratulated him on coming to satellite, and he gave a gracious thank you.
Catching Mad Dog Unleashed hearkened me back to the sports talk I used to listen to in Boston on Sports Radio WEEI. Having a talent such as Chris Russo on satellite radio is a blessing for fans of any sport, and we can all look forward to the shows official launch on September 15th.
Position - Long SIRI