The most winning coach in Division I men's basketball, Mike Krzyzewski, is ready to sit down with Chris "Mad Dog" Russo for a Q&A session with a live audience of listeners and fans at the Cameron Stadium in Durham.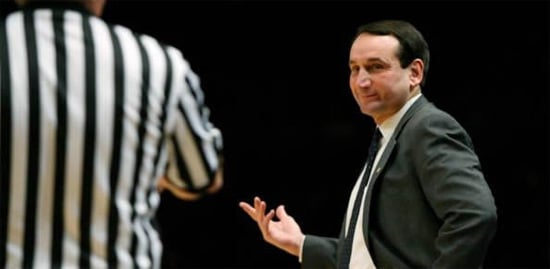 The two hour event will air live on Mad Dog Radio (ch. 86.) on Wednesday, December 14th from 7 – 9pm ET and will consist of an interview followed by an town hall style session where subscribers can hit the legendary Duke coach with all their burning questions.
What is it like to have a .788 winning percentage, make 11 final fours, win the Gold medal, and have played under that crazy chair throwing maniac Bob Knight?
"Coach K has had one of the most extraordinary careers of any coach, in any sport, in history," said Russo.  "We've spoken several times over the years and he's one of the all-time greats.  To talk with him after this latest milestone, at Cameron Indoor, in front of a live studio audience will be fun."