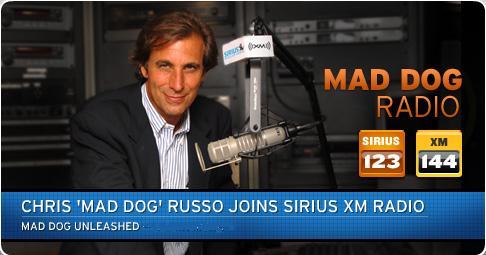 It is official. Chris Mad Dog Russo will be broadcasting his show on Sirius XM Radio. As we speculated here last night, the show will be aired on both the Sirius as well as the XM systems, demonstrating a synergy of the merged company.
SIRIUS XM Radio (Nasdaq: SIRI) announced today that it has signed renowned sports talk personality Chris "Mad Dog" Russo, the former star of the Mike and the Mad Dog show, to a five-year contract to headline a new sports talk channel exclusively available on SIRIUS and XM.
Mad Dog's recent departure from the market-leading Mike and the Mad Dog has been national news in recent days — a dramatic reflection of his loyal fan base, huge popularity and strong name recognition. Mad Dog is known for having helped popularize the sports talk radio format across the country and speculation on his next step has been high.
"Mad Dog's fans are passionate about their sports and passionate about where they get their sports news and commentary from — these are the listeners that any audio entertainment company would want," said Scott Greenstein, President and Chief Content Officer, SIRIUS XM Radio. "Having Mad Dog on SIRIUS and XM will fuel subscriber growth and create new and exciting opportunities for advertisers. Choose whatever sports analogy you want — this is a big win."
SIRIUS channel 123 and XM channel 144 will relaunch as Mad Dog Radio, a reformatted channel that will cover the spectrum of sports with engaging talk, high profile interviews, up-to-the-moment news and live remote broadcasts from the biggest sporting events.
"No other sports talk radio comes close to what I will be able to do with SIRIUS XM Radio. I get to create a whole channel of my kind of sports talk and am very excited to join SIRIUS XM which has the largest collection of sports properties in the history of radio, consisting of virtually every major sport including, MLB, NFL, NASCAR and the NHL," said Russo. "With football season about to kick off and all the pennant races heating up, I can't wait to get on the air and talk to the 18.5 million SIRIUS XM Radio subscribers around the country."
Russo will host the channel's anchor program, "The Mad Dog Sports Show," live from SIRIUS' New York studios every weekday afternoon from 2:00 to 7:00pm ET. The exclusive show will begin airing daily on SIRIUS channel 123 and XM channel 144 on Monday, September 15. It will feature Russo's take on the biggest sports stories from around the country, plus listener calls and hard-hitting interviews with some of the most intriguing people in sports.
"Mad Dog is a national personality and now he has a radio audience that spans the country. Already a regular on national television, including The Late Show with David Letterman, Mad Dog will now be heard every day by listeners across the nation. He is now unleashed and the result will be a compelling and informative channel with totally unique access and attitude. We are thrilled he has chosen to join us as we deliver fans the very best in sports talk radio," said Greenstein.
Broadcasting simultaneously on SIRIUS channel 123 and XM channel 144, "The Mad Dog Sports Show" will be the first original show available both on SIRIUS and XM.
"With the huge sports audiences SIRIUS and XM have, it is fitting that our first major talent announcement following the merger would be Mad Dog," said Greenstein. "Subscribers get the programming they love today and new options in the future. Our stockholders benefit from the subscriber growth and increased advertising revenues that Mad Dog will certainly bring."
Preceding his official debut, Russo will host special preview shows over the next month with fans from three of the fall season's biggest sporting events. The show will debut in its regular daily timeslot on Monday, September 15.
Known to sports fans everywhere for his feisty, unflinchingly candid approach to talking sports and unrestrained, rapid-fire delivery that earned him the nickname "Mad Dog," Russo comes to the company after nearly 20 years on New York radio where he represented one half of the hugely popular Mike and the Mad Dog radio show.
He is the author of two books: The Mad Dog 100: The Greatest Sports Arguments Of All Time and, most recently, The Mad Dog Hall of Fame: The Ultimate Top-Ten Rankings of The Best In Sports.
POSITION – Long SIRI