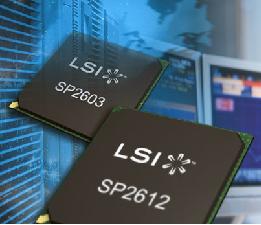 Last week we talked about the A-La-Carte capbilities of the new Starmate 5 in our article, Starmate 5, More Than A Name Change. The article outlined differences between the current Starmate 4, and the as yet unreleased Starmate 5, and a commenter even noted some specific wording that would indicate A-La-Carte capabilities.
Now, A-La-Carte has been functionally possible for quite some time. XM did it with Playboy Radio and Opie and Anthony for a period of time. Both services allow blocking of channels and both services offer a "demo" series of channels already. A-La-Carte as a merger issue does not center on the ability to do it, but rather the pricing structure that makes it come to life with multiple choices for consumers.
Digging a bit deeper, I found it curious that an LSI chip was in the Starmate 5. After all, at one point both Sirius and XM had chip contracts with ST Microelectronics. The last press release from LSI regarding irius was from June 0f 2006, nearly two years ago. For those not familiar, Sirius used to get their chips from Agere until a couple of years back when there was an announcement in a quarterly call that the company had moved on to ST Micro. In the meantime, LSI bought out Agere, and the deal closed in the summer of 2007. Thus, is Agere back in bed with Sirius? It would appear so.

Agere does have some interesting patents regarding satellite radio. One such patent allows for crossover, or interleaving of content over adjacent streams. This patent allows a wide use of tiered programming such as A-La-Carte, and could even be used to incorporate advertising to some tiers while other tiers have no advertising. Although this patent has been around for quite some time, and people had spoken of it when it was initially filed in 2003, it received patent acceptance in late April 2007. Thus, Agere, now owned by LSI has a tiered programming patent that could well be incorporated onto a chip in the new A-La-Carte capable Starmate 5. This is indeed speculation, but worth noting.
If LSI is indeed the supplier of chips for what is in theory the first A-La-Carte radio, it may be something that investors want to be aware of. Should the merger pass, and the A-La-Carte be a widely demanded feature amongst existing and new subscribers, there could be quite a few sold.
UPDATEWe were contacted by LSI executives that informed us of the following:
In connection with the sale of its mobility products business to Infineon Technologies AG, LSI Corporation no longer participates as a silicon supplier to the satellite radio market. Attached please find a link to our press release dated August 20, 2007 in which this was announced. PRESS RELEASE
While the chip does indeed say LSI, there is no contractural relationship betwwe LSI and Sirius.
We also contacted Infineon who provided us with this Press Release
Position - Long Sirius, Long XM, No Position LSI, No Position Infineon