How often do you look at an equity that has traded sideways and smile?  That is exactly what I did today.  We are seeing the classic signs of the consolidation that I was hoping to see.  It is happening at the higher end of my acceptable scale, so I find that very heartening.
The reason I am happy about the consolidation is that it is healthy.  The equity just completed a spring.  We want it to regroup and build energy for the next move.
I would not worry abut a dip all the way down to $3.50.  It would produce a couple of caution flags, but even a move that bold to the downside would be healthy.  There is a small bit of support at $3.65, $3.60 and $3.55.  I feel that $3.60 will hold for tomorrow.  Options may allow us to test lower.
Watch volume for spikes or drops.  The consolidation range will keep us between 45 million and 65 million shares.  Volume on either side of that would indicate a pending move.
Volume

Support and Resistance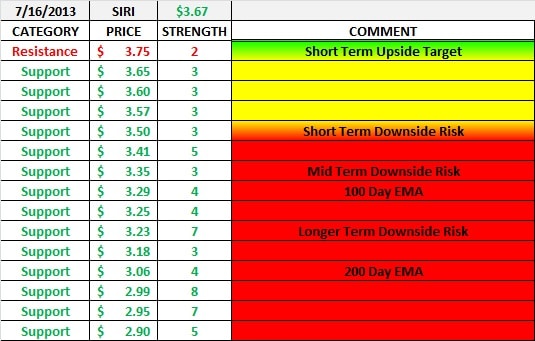 Exponential Moving Average