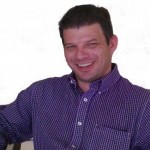 Being invested in the audio entertainment sector can be as tricky as being invested in virtually any sector these days.  However, sometimes a pure play reveals itself, and it is so tempting that it is almost scary to jump at it because it seems too good to be true.  From a technical standpoint, such an opportunity seems to have presented itself.  The long SIRI, short P concept is nothing new, but from a technical standpoint the stars do not always align the way they are right now.  This could be about as perfect a play as we have seen with this strategy!
What makes this trade suddenly more compelling than before?  Simply stated, the technicals of it seem to be positioned perfectly for the maximization of profit and a minimization of risk.
Preliminary Information
SiriusBuzz readers have had a unique insight on the technical side of Sirius XM.  We have pointed out the potential and outlined the risk in ways that are simple for readers to understand and better yet, verify.  Technical trading requires some foresight, thought, and understanding.  However, it is only part of the trade.  The other part is the confidence of the investor in the data.  As an investor gains confidence in a technical pattern they become smarter and better traders.
There are many technical indicators.  There is not one that is any better than another, and some technical indicators work better for some equities than others.  The reason for this is that technicals rely on very specific data points  and not every equity trades in a manner that key in on those points.  With many of my investments I use three technical indicators.  This helps me gauge the strength on moves with added confirmation.  I like to use volume, support and resistance levels, and Exponential Moving Averages (EMA's).
Volume gives an indication of the confidence of a stock move, or an overall sentiment on a stock.  Support and Resistance gives an indication of the potential of the stock reaching certain levels, and EMA's provide a more detailed summary of whether the trending is exhibiting bullish or bearish behavior.
In this article I am going to outline why going long Sirius XM and shorting Pandora may be a brilliant play.  To be clear, I am not doing this trade myself.  I am already long Sirius XM, but tend to stay away from shorting equities.  That is a personal choice for me, and each investor needs to make their own personal choices and do their own research.
From many technical standpoints Sirius XM is currently exhibiting very bullish behavior.  The exact opposite is true of Pandora.  Pandora has very strong bearish behavior at the moment.  Pandora did see a nice run late last week that had the equity move from just under $9.40 to just over $10.  I look at this move as defensive, and think that Pandora will test new lows before running to new highs.
Pandora Side Support and Resistance
The key in looking at support and resistance of an equity is the strength of the levels.  With Pandora, we see the equity trading at a key level just below a virtual wall at $10.05.  Below is nothing but weak support.  On the other hand, $10.05 is a very strong wall, and then above that we have another strong wall at $10.90.  Simply stated, resistance is very strong, and support is very weak.  Unless Pandora has some stellar news, getting past the resistance points will be a huge challenge.
With weakness below and strength above, the technical story would seem to indicate that the odds are better for a retreat than for an attack.  The next step is looking at the Exponential Moving Averages to see if they support this thought process.
Pandora Exponential Moving Averages
From an EMA standpoint Pandora is exhibiting very bearish behavior.  I don't now a more simple way to state this.  Each successive EMA level is well below the next.  In order to get bullish, the EMA chart needs to look exactly opposite of what it currently does.  Simply stated, the EMA signals on Pandora look challenging!

With the Pandora technicals looking so bleak, it may well be a natural stance to hold off on any buying.  It may also be a great chance for those that like to play the short side to initiate a position.  I see the run to above $10 late last week as a head fake of sorts.  The fact that Pandora was unable to topple the resistance at $10.05 is a signal that getting above that level for any length of time will be daunting.
Sirius XM Support and Resistance Levels
There has been some slight change in the support and resistance levels, but the key change is that, at least for now, the battleground that had been $2.10 has been toppled and now $2.10 establishes very strong support.  Sirius XM blew buy a small resistance level at $2.14 showing strength.  For this reason the technical level at $2.14 has been removed setting the stage for the next battle at $2.20 and then $2.26.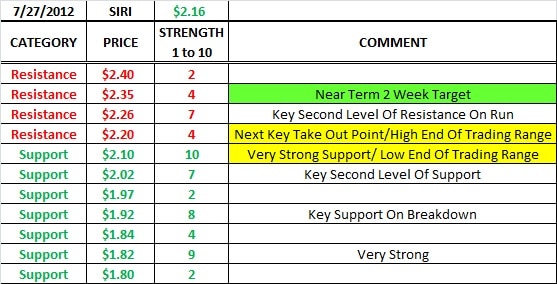 What we have shaping up is a technical run that carries little resistance.  This can mean that Sirius XM could test prices near 52 week highs in short order.  However, there is a macro-economic environment that also needs consideration.  The street seems to be expecting disappointment these days.  Other high profile stocks like Apple and Facebook have not been the shining stars some expected and this can pressure other company's, or at least the sentiment of the marketplace.
I expect Sirius XM to have a good quarterly call, but perhaps not many on the street are finding positive speculation endearing these days.   For this reason $2.26 could be the high end of the near term trading with a decent chance of a run to $2.35.  Here is the key.  If Sirius XM can run past $2.26 on decent volume prior to the call, then we can see a quick run above on good news.  We will enjoy a decent run here, it is just a question of where it starts to consolidate again.  With that in mind I am placing a $2.35 target on Sirius XM with expectations that it will settle down to $2.26 again to consolidate.
EXPONENTIAL MOVING AVERAGES
Things are looking good on the EMA front as well.  Right now all signals are bullish and the 5, 13, 20, and 50 day averages all have decent spreads with some wiggle room built in.  The key now is maintaining the bullish stance  We want to see Sirius XM close above $2.11 to maintain the current spreads and above $2.16 to continue a healthy spread.  The great news is that the key $2.11 level is above the Support and Resistance level of $2.10.  This translates to a strong likelihood that Sirius XM can maintain and even build on the bullish stance that has been building for quite some time.

Long SIRI - Short P Play
As you can see the technical story of these two equities could not differ any more than we see right now.  Many readers here are SIRI investors looking to maximize their trading.  One serious consideration might be a play that can deliver some outstanding rewards if it plays out right!  If you already like the SIRI play, all you have to consider now is whether shorting Pandora makes sense.
Some of the risk involved is that Pandora flounders at current levels and does not reach down to test new lows.  A more substantial risk is that Pandora topples $10.05.  There is protection on a short position to the upside at just above $10.90.  Meanwhile there is little protection below current levels.
Thus, if you are expecting a 10% run on Sirius XM to $2.35, you have to weigh that against the odds of Pandora making a 9% run.  Even if that happens, you are still up on the move...A good position to be in.  If Pandora falters at current levels and takes a 5% slide, you are making out even better than you would with a Sirius only position.  Smart money would ask the question, "Why not just go long Sirius XM with a 10% jump rather than hoping for a 5% correction on Pandora?"  The answer is that the protection below for Pandora is almost non-existent.  If Pandora tests the $8.50 level then you would see a 15% drop in the price of that equity.
This play is not for everyone, but the prospects are very tempting.  Apply the options market to this strategy and you could have some even more interesting results!  I do not own Pandora stock and have never had an investment in the company (long or short).  I have found it to be a great stock for traders as it tends to have some decent swings.

MEET AND GREET
With the earnings call approaching, and because I am in New York City quite a bit these days, I thought it would be an opportune time to set up a casual Meet and Greet where we investors can get together, discuss the markets and shoot a little pool.  I will be at Slate in New York City on Wednesday, August 1, 2012 at 7:00 PM.  The venue has pool tables on the lower level, and that will be a great place to meet up.  If you are in the New York area, why not stop by and enjoy an evening of Sirius XM discussion!  If you are interested, want more information, or planning to attend, please send an e-mail to satellitestandard@gmail.com.
Happy trading!