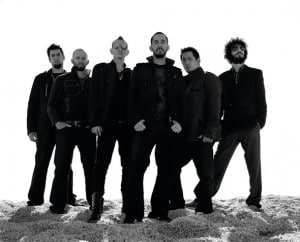 Sirius XM Radio (NASDAQ: SIRI) announced today that the members of multi-platinum selling band Linkin Park will sit down for a rare Q&A session with an audience of SiriusXM listeners in Los Angeles, CA.  This will be the second consecutive Town Hall hosted in the west coast city.  Hopefully the popularity of these events will translate into other city's getting events like this as well.
"SiriusXM's Town Hall with Linkin Park," scheduled to take place on Monday, August 6, with some lucky fans getting the chance to be up close and personal to the music stars!  Those that can not be there in person can hear it all on Octane (ch. 37),  Tuesday, August 14th at 9 pm ET with rebroadcasts happening throughout the week. This Town Hall special will be hosted by Sirius XM's Jose Mangin.
Sirius XM's "Town Hall" series, features intimate gatherings with iconic musicians with small studio audiences of lucky Sirius XM listeners. Previous "SiriusXM Town Hall" specials have featured Bruce Springsteen, Tom Petty, Coldplay, Ringo Starr, Roger Waters, Renee Fleming, Gregg Allman, Usher, Ronnie Dunn and the surviving members of Nirvana.
"Town Hall" with Linkin Park will include the band answering a variety of questions from the studio audience about their career, their latest album, LIVING THINGS, and their upcoming "LIVING THINGS World Tour."  Want more?   Linkin Park will also perform live!   Sirius XM listeners will hear some of the band's biggest hits, along with songs from the new album.