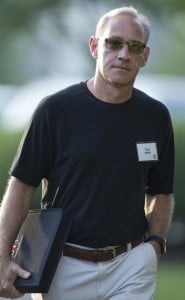 Liberty Media (NASDAQ:LMCA) CEO Greg Maffei appeared on CNBC and gave some insight into the recent developments with regard to the Liberty stake in Sirius XM. Raher than attempt to paraphrase what was said, here is the transcript:
CNBC - Nice to have you here and have you come down to the floor. Let's start off with Sirius, it's been in the news. Yesterday, in fact, ready to go back to the FCC and why do you want to take control? And what would you do differently if, in fact, liberty does take de facto control of Sirius satellite radio?
Maffei - As you pointed out, this is only de facto control, which is only how you're able to exercise the rights that you have. How we're allowed to use those rights under the sec's rule rules. We're just going to go through a regulatory process to exercise the rights that we have.
CNBC - And, if you get those rights, is there something that you would do differently that's currently being done?
Maffei - Well, we think Mel (Karmazin) and the team there have done a great job. Business has been performing well, so we're very happy with all of that. Liberty makes its weight and thoughts known, but in general, we're very serious.
CNBC - Something else that you've been enthused about is the $6 billion gain. The greatest investment probably of all time. You came in when the company was close to bankruptcy. Many people think that you're going to pursue a Reverse Morris Trust basically a way to spin it off to shareholders in a tax-free manner. Is that the case and is all of this just posturing to agree to allow you to pursue?
Maffei - I'm not sure where we're going with the investment. We've said there are two logical paths for us. One is to go in control, the other is to pursue a Reverse Morris Trust the way did with Direct TV and ultimately be with our shareholder's hands. I can't tell you which way we're going to go. If i knew, I would tell you. We think Sirius is a great company. It has a lot of potential going forward. and we're not in a rush to make any decisions.
CNBC - It's also going to start spitting out a good amount of cash flow, correct?
Maffei - Absolutely. Satellite money has been spent, leverage is coming down, and, as it's been noted before, a large NOL (Net Operating Loss) position. So it's going to spew a lot of free cash.
CNBC - Now, there's some speculation that you'd want to take your stake up to 80%? Is that the case?
Maffei - I think that's highly unlikely. We tend not to want to pay top dollar for the last share. In addition, all of those NOL's are going to be used by Sirius.
CNBC - Are you sick of being a manager? Rumor has it you are tired of that.. I don't even know if it's accurate.
Maffei - I can tell you it's not.
CNBC - Would you want to get rid of Mel (Karmazin) if you took control?
Maffei - No. We want to keep Mel involved.
CNBC - Then why not just go along with whatever you want to do?
Maffei - You'll have to ask Mel (Karmazin) that.
As you can tell, there is a lot of posturing happening. While a lot of cards are being shown, certainly Liberty could take any of several paths to get to where they want. The bottom line is that it is obvious that Liberty likes what they have in Sirius XM and is excited about the prospects of Sirius XM as a company.