As it appears that several of the readers are also invested in Liberty Media, I will begin more regular updates of the Liberty Terchnicals.  Right now Liberty is exhibiting a more bullish Exponential Moving Average pattern, but it is seeing the same tightening that we have been witnessing in SiriusXM.  This is likely for good reason since SIRI makes up a substantial portion of LMCA.
Volume
Volume on Liberty was light yesterday on a down day.  What we typically like to see is trading in the area of 600,000 shares.  Being down on light volume could be an indication that the equity has support here, but as always, we want to watch things closely.

What we want to watch for today is volume at $103.80.  This represents the next resistance, and is also right around the 5 and 13 day exponential moving averages.  We want to see Liberty pass that level on decent volume.
Support and Resistance
Liberty Media is trading in a battleground area between $103 and $104.50.  This has been a pretty constant pattern in the last several sessions.  Liberty has moderate support at just below $102, but in my opinion it would take a breakdown to reach down there.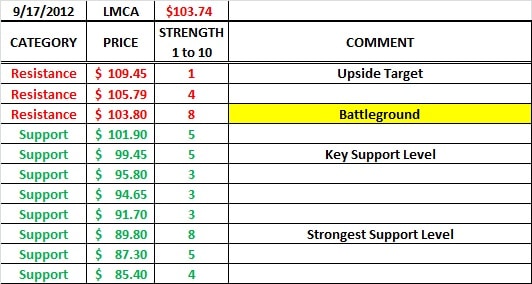 What we are looking for is the support level at $101.90 to gain in strength.  This happens with the equity continuing to trade above it, and perhaps even testing it.  The more volume above that level, the stronger that support can get.
Exponential Moving Averages - EMA's
The EMA chart for Liberty essentially trails SiriusXM.  This is good in that by watching SiriusXM you can get an idea of what is a day or two behind with Liberty.  By example, while SiriusXM is showing a couple of danger flags right now, LMCA is just beginning to exhibit the cautions.

What we want to watch for is the behavior right here.  We want to see Liberty get itself above $104 per share.  If Liberty gets below $3.20, we run the risk of getting another caution.
Summary
The price of Liberty is tied to that of SiriusXM.  Monitor SiriusXM to gain a hint on how Liberty will behave in the coming days.  The EMA's on Liberty are tightening just as we saw on SiriusXM.  Short term I see both equities correcting slightly.  The next support level for LMCA is at about $102