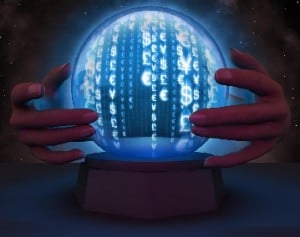 There is never ever a dull moment when it comes to SiriusXM (NASDAQ:SIRI).  If there is a technical level that can send the stock soaring up, or correcting back down SiriusXM will find it.  As I have been writing for about a week now $2.20 to$2.21 (depending on the day) was a key level for this equity to cross.  What happens?  SiriusXM closes dead nuts on $2.20!  It is now time to pull out the crystal ball again.
Volume
The great news today was that SiriusXM had VOLUME!  Yeah Baby!  We got over the 60 million that I termed as an important development!  SiriusXM closed the day with over 67 million shares traded.  Yes, it is a couple of trading days after I would have anticipated, but that's why regular updates are so critical when you are invested in SiriusXM.

The better news is that Sirius XM passed some critical levels today that will be discussed in the subsequent sections of this article.  I encourgae readers to go back and review this series of articles as it demonstrates the importance of watching technicals.  If I may be so bold as to say so, these updates have been pretty accurate as well.  Volume for tomorrow will be quite interesting as it is the conference call.  I will try to post an earnings preview this evening, but I have a busy schedule today.
Support & Resistance
Another wow in this category of my technical update.  There are a  things we like to see when we look at support if we are long a stock.  We want to see strong support below and we want to see additional strong support building as the equity continues to move up.  Sirius XM did just that today.  The strong (level 10) support that had been bouncing between $2.10 and $2.11 now sits at $2.12.  While this little fact may get lost on many, it is important.  Climbing support gives added strength to an upward move that just happened.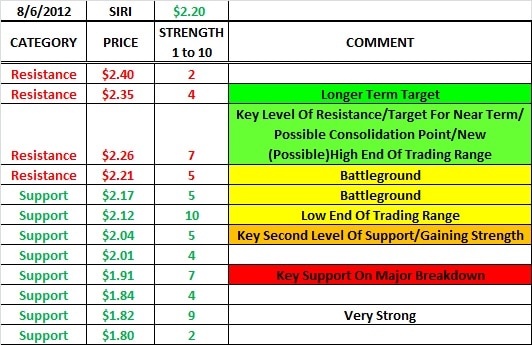 As you can see in the chart above, $2.26 is the new stage that will be a battleground.  I currently see this as a near term price target as well as a consolidation point after SiriusXM reaches even higher.  Yes, a spike above $2.26 on great news tomorrow could very well be in the cards, but history tells us that runs come to an end and the stock needs to find a resting place.  At this moment I believe that $2.26 is a likely candidate.  Below that would be at about $2.15 to $2.17.  As an investor it is good to understand these steps and how they work.
We need to take this one step at a time though.  The first key is for SiriusXM to break this $2.20 and $2.21 range on good volume and hold it.  This could coincide with a run to $2.26.  If that happens we will want to see volume of 80 million plus.  This is a precarious position, but it is precarious in a good way.
Exponential Moving Averages (EMA's)
With the EMA's we got a trifecta today!  SiriusXM exhibited strength and added strength as well.  As was the case yesterday we have all of the EMA signals exhibiting bullish behavior and indications.  In fact we even added in some wiggle room that should add confidence to the analysis.  We now have 3 cent and 4 cent gaps across the board.

I was asked not long ago by a critic, "How's that EMA working out for you" after a correction in the stock price.  My answer then was just fine.  Now it is better than just fine!  The key with EMA's is watching the trend overall on a short, medium, and long term basis.  Following things like this on a regular basis reveals all of the secrets so that you can be a prepared investor.  I never look at EMA's alone.  I have my three pronged technical attack, and it has done well by me.
What we want to see from an EMA standpoint is a close above $2.18 to maintain the bullish stance across the board, and a close of $2.21 or better to strengthen it.  The more you dig into these data points the better understanding you will have.  Low side risk right now is $2.15.  High side potential is $2.26 with an outside shot at $2.25.  It is as simple as that.  Happy trading!