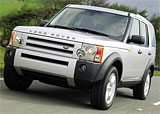 Land Rover announced today that they will be offering SIRIUS as standard equipment in their 07 Range Rover and LR-2 models. However, from what I understand they will not be offering any kind of lifetime subscription package like we saw from yesterdays MINI post.
Richard Beattie, Executive Vice President of Marketing from Range Rover had this to say…
"Land Rover is delighted to offer SIRIUS as a standard feature or a factory option on all of our vehicles in the US. We are dedicated to providing our customers with the very best in-vehicle experience and SIRIUS' unique programming is a tremendous feature to have available on our vehicles. Land Rover can take you anywhere and with SIRIUS you can listen to your radio wherever your Land Rover may take you."
I would have never guessed that Rich was the VP of marketing if the press release didn't tell me. Don't you wish that just once they would ask some guy named Bob down on the assembly line what he thinks about the news? I am willing to bet the quote would be a hell of a lot more entertaining.