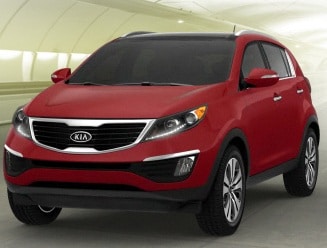 News cars are sporting some great new features, and Kia is not missing a beat by including Sirius Traffic as an optional feature on the 2011 Kia Sportage. Kia is among the brands offering 100% satellite radio installation across all of their models, and with some vehicles even include additional Sirius services such as traffic.
The 2011 Kia Sportage has been a good seller for Kia. Sister company Hyundai and Kia and have been breaking their respective sales records with each passing month. Much of their success is due to improved consumer perception combined with better quality, and of course, a lot of bang for the buck. The Sportage starts out at just $18,295.
Kia is featuring the Sirius Traffic option in their latest advertising campaign. The exposure helps spread the word that Sirius XM is more than satellite radio. Throughout 2011 there has not been a month that goes by without an OEM advertising Sirius or XM in some manner. Ford, GM, Audi, and several others have all made it a point to feature Sirius XM services in their promotions and sales material.
View the latest Kia Ad on the Kia website.
Position – Long Sirius XM Radio