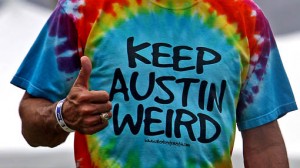 If you think the title of this article is strange consider that the official slogan of Austin Texas is "Keep Austin Weird".  Now SiriusXM is doing its part to keep Austin Weird by opening a brand new studio in the great state of Texas!  That's right, SiriusXM will now have a presence in what many consider one of the most vibrant music and art scenes in the United States!  The new studio, in Austin City Limits Live at The Moody Theater, 310 Willie Nelson Blvd, will be home to SiriusXM shows, musical performances, interviews, special broadcasts and more.
All of the action kicks off  at a grand opening event to be held on Friday, October 12th.  Attending the festivities will be Willie Nelson, Austin Mayor Lee Leffingwell and more. Nelson's SiriusXM channel, Willie's Roadhouse, channel 56, will broadcast with host Dallas Wayne live from the new studio weekdays from 12-6 pm ET and will broadcast live from the event.
"Austin is one of America's most vibrant music cities, and we are excited to expand the SiriusXM footprint there with our new studio," said Scott Greenstein, President and Chief Content Officer, SiriusXM. "The unpredictable but influential music scene of Austin, its artists and its style, will be represented by the amazing array of artists, and the shows and channels that will broadcast from there. Willie is an iconic and much-loved artist, who has been part of the SiriusXM family for years, and we are thrilled to have him help us open the studios."
By expanding its presence here on Terra Firma, SiriusXM will be able to become more dynamic with events such as the SiriusXM Town Hall series where the satellite radio provider interviews music icons in front of small and internment audiences.  SiriusXM continues to catch on, and now another new studio is in the mix!