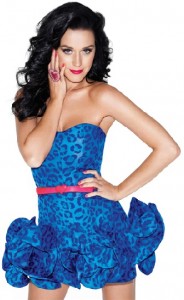 Katy Perry is one of America's hottest pop artists. She has enjoyed regular to 45 songs over the past two years, participated in awards shows, and is currently promoting her new song "California Gurls," as well as her new album, Teenage Dream. Beginning tomorrow at 7:00 AM Katy will join the Morning Mash-Up crew (Sirius Hits 1 and XM 20 on 20). Subscribers can tune in as Stanley T., Nicole, Ryan and Rich get all of the latest info about what Katy is up to, and yes, even discuss her upcoming wedding (sorry guys). If the 7:00 AM show is a bit early for you California guys and gurls, no worries. There will be replays at 8, 9, 10 and 11.
After her chat with the Morning Mas-Up, listeners can hear Katy do the weekend countdown all weekend. Katy takes over Spyder Harrison's seat with a special appearance on Sirius XM. Join Katy as she counts down the top 45 hits as determined by the WutChuWant Crew (listeners help determine the countdown results). Katy is sure to dish the dirt, and give Sirius XM listeners an entertaining show.
Still not enough Katy? Well you can get more. On May 28, at 3:00 PM Katy Perry will host Hit Bound. Join Katy as she plays you the freshest music you'll find anywhere, including some from OneRepublic, Train, Miley Cyrus, The Script and her friends 3Oh!3. Plus, you can find out what artist Katy is hooked on the most right now! The 1 hour show will be rebroadcast at 7:00 pm ET; Sat 5/29 5:00 am ET; Sat 5/29 9:00 am ET; Sat 5/29 2:00 pm ET.
Position - Long Sirius XM Radio