The retail; channel in satellite radio continues to stabilize and another month of better than expected numbers has rolled in. NPD Group, which tabulates retail data in many categories has published sales figures for the month on June.
According to Stifel analyst Kit Spring, the retail channel for Sirius was down 3.5% on a year over year basis, while XM's sales were down 30%. In May, Sirius was down 1 % and XM down 40%. While the results may seem mixed, they are pacing better than the projections outlined by many analysts.
For June, the NPD retail split was 71% for Sirius and 29% for XM. For the sector as a whole SDARS sales were down 13% for the month. For their part, Stifel had estimated a retail drop of 30% for the quarter. Most analysts had estimated between a 30% and 40% drop. With the June numbers in, it is now clear that the retail channel outpaced the street.
Spring noted, "based on our experience with actual versus NPD predicted results, SIRI is
pacing to beat our subscriber estimates for the quarter (254k gross retail additions)."
The analyst maintains a Buy on SIRI and XMSR: Their $3.50 target price on SIRI is based on a combined company value, using 5-year DCF which assumes a 11x terminal multiple of EV/EBITDA and an 10.5% WACC (based on a near term higher cost of capital and lower long term cost of capital).
Their $16 target on XMSR is ~4.6x SIRI target price based on the merger exchange ratio.
They find SIRI more attractive on a stand-alone basis based on its leading retail market share and, more importantly, bigger commitments from its OEM partners and superior fundamentals.
At this time, they believe XMSR shares are very enticing from a merger arbitrage standpoint, however we understand that SIRI shares are difficult to locate to execute this strategy.
It is important to note that NPD does not include all retail outlets, and does not include sales made directly by XM or Sirius. Interestingly, Sirius and XM have not updated their retail offerings in quite some time. Should the merger be approved, and newer radios are a-la-carte capable, we could see more improvement in the retail channel.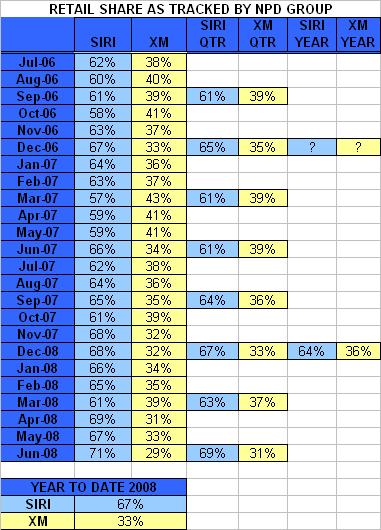 Position: Long Sirius, XM.