Well, June auto sales in the U.S were not quite as strong as May, but the numbers did come in better than analysts were expecting thanks to a strong close to the month.  On a year over year basis the auto sales were up substantially.  This was due to the impacts of the Tsunami in Japan that decimated the auto channel throughout 2011, but in particular the second quarter.  Thanks to slightly better than expected results, the headlines on the auto channel should bode well.
The key for Sirius XM investors is in the numbers.  There are a few that jump out quickly:
Sales in Q2 of 2012 are  530,000 units better than in Q2 of 2011
The average for the quarter was 1,267,000 cars sold per month.  This is well above the 1 to 1.1 million Sirius XM needs to report decent numbers.
There was a substantial uptick in the Point-of-Sale category from just over 30% of the share to 31.24%.  This category delivers subscriber in the current quarter.
At the halfway point of 2012 total sales are 7,27 million.  This would imply that unless the bottom falls out of the market that 14 million in 2012 is very feasible.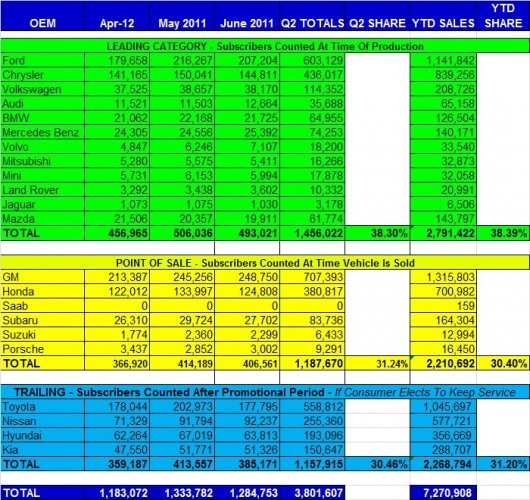 All in all the auto sector for Q2 paints a very healthy picture for the Sirius XM subscriber picture.  Yes, there has been a slight slowdown in the SAAR, but in the end the sector is performing to levels that should give Sirius XM confidence in Q2 as well as 2012.