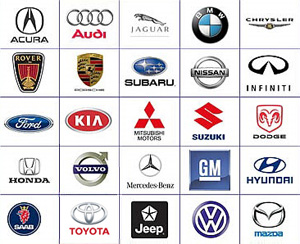 June 2010 U.S. auto sales have been released, and while the mainstream media calls the month a mixed bag, the numbers themselves are on pace for Sirius XM guidance. As expected, June auto sales came in weaker than May. Analysts were expecting about 1 million in sales, and at 983,000 that number was met (June 2010 SAAR was 11.08 million). For satellite radio investors, hearing 1 million for the month is great news because it is the magic number that delivers good metrics across the board for Sirius XM. For the quarter just over 3,000,000 cars were sold.
Mainstream headlines are now reporting that the "auto sector recovery" may not be as robust as first thought given the dip experienced in June. Overall though, most analysts are still predicting 2010 auto sales to be between 11.5 million and 12 million. Certainly there are a few that are more bearish, but even their projections of 11 million for 2010 is still well within the auto sales ranges Sirius XM used in developing their guidance. While there will certainly be debate as to whether or not there is a recovery of the auto sector, what Sirius XM investors need to consider is whether or not sales will average about 1 million per month. Thus far the auto sector is on pace for Sirius XM.
Breaking down the auto sector further, investors will want to better understand how the differing manufacturers (OEMs) impact Sirius XM in terms of subscribers. There are three categories. OEMs that deliver subscribers at time of manufacture are termed "LEADING" because the subscriber is counted before the car gets into the hands of a consumer. OEMs that deliver subscribers when a consumer buys a car are termed 'POINT OF SALE". The third category, "TRAILING", are OEMs that deliver subscribers only after the free promotional period, and IF the consumer elects to become self paying.
These three categories deliver subscribers at differing points in the new car cycle. In a perfect world, these three segments would balance out with each making up 33.3% of the picture. If the "LEADING" category is weighted more heavily, then the subscriber numbers will look good now even though the car will not sell until next quarter. With the "LEADING" category it is production that matters. With the "POINT OF SALE" category it is sales that matter. Sirius XM gets promotional subscribers when cars sell. With the "TRAILING" category it is conversion of promotional subscribers in the following quarter that matters.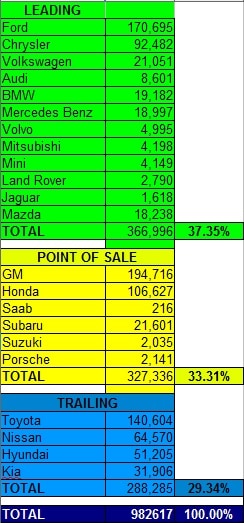 Right now the OEMs that are having the most success are the "LEADING" category. Fords strong sales measured against the drop in sales experienced by Toyota and Nissan have caused a shift to the Leading category. The leading category is making up just over 37%, while the "TRAILING" category has shifted to below 30%. The key thing to understand is that it is likely that a lot of the "LEADING" category sales were already being counted as subscribers last quarter. This is not a bad thing, but understanding it is important, as knowing how the OEM channel impacts satellite radio keeps investors expectations in line with what is happening in the sector. Of the categories offered, the "LEADING" category has the #2 and #4 position in sales volume for June. The #1 position and #3 position are from the "POINT OF SALE" category, while the "TRAILING" category has the 5th position.
Another factor that needs strong consideration by investors is overall production. As I mentioned, production is important in the "LEADING" category in terms of subscriber count, but perhaps more important is the recent trends in overall vehicle production. In past years, an OEM having 130 days worth of inventory in the pipeline was not at all unusual. This year, all companies seem to have scaled down production to meet demand. Last week on our radio show we interviewed Evan Facemeyer who spoke about the scaled down production, stating that companies are trending toward having 75 days worth of inventory. This scaled down production impacts satellite radio in an interesting way. Sirius XM pays installation and chip-set subsidies. Tight inventory keeps SAC stays in check. As you can see, the balance is key. Balance in production, balance in sales, and balance in category for subscribers all play a role in the metrics offered by Sirius XM.
With six months of sales now in the books, U.S. auto sales stand at 5,614,023. This is an average of nearly 936,000 per month, and an annualized sales figure of 11.2 million. The first six months of the year delivered three weak months and three stronger months. That trend, at a minimum, can and should continue through the balance of the year. The first three months of the year delivered about 2.7 million in car sales which translated into 170,000 net subscribers. The additional 300,000 that made Q2 come in at about 3 million should have allowed Sirius XM more latitude in the promotions they offered in Q2. It is quite possible that they can keep metrics such as ARPU and Churn stable or showing slight improvement while reporting even more subscribers than we saw in Q1.
Position - Long Sirius XM Radio