July 2013 auto sales came in at the highest level since 2006.  That is the good news.  The bad news is that the second half of July slowed somewhat and instead of a SAAR of about 16 million, which was the pace at mid-month, the SAAR came in at 15.6 million.  The sales were 6% below June, but 15% above July of last year.  Overall we still seem to be on pace for 15.5 million cars sold in 2013.
The softer second half of July is worth monitoring as August begins.  August is usually a strong sales month and it beats July. We should see August beat the 1.4 million level.
One key element of the July auto sales data is that the "leading" category went from 38.5% market share to 36.5%.  The leading category supplies subscribers at the time of production rather than when the car is sold.  What this translates to is that the third quarter is starting off slightly behind the curve (very slightly) than we have been experiencing for the first half of the year.  The category that picked up the points is the trailing category, which would not be supplying subscribers at all until Q4.  It is simply something we will want to keep an eye on.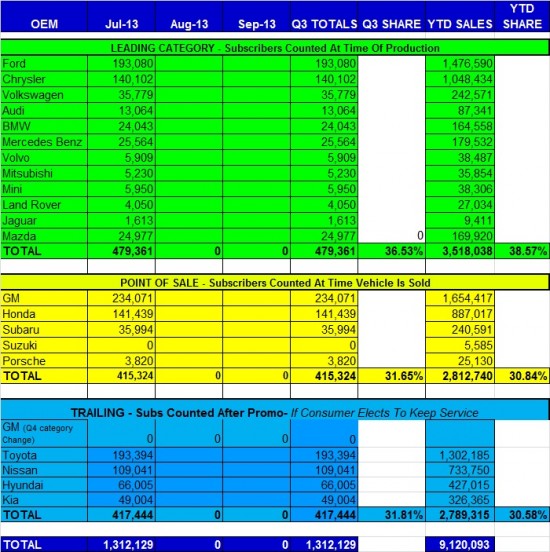 The bottom line is that Q3 is starting off well, but there are a couple of items to keep an eye on as the quarter progresses.  Stay Tuned.