The final numbers for July auto sales have just crossed the wire and what we have is a mixed bag.  The Seasonally Adjusted Annualized Rate (SAAR) will certainly disappoint as it is in grave danger of dipping below 14 million for the first time this year.  Does that mean that the market is softening as the headlines seem to state? Perhaps slightly, but overall auto sales of 14 million are pretty well assured for this year.
With 7 months in the books, the auto industry has recorded sales of 8,423,973 units or an average of just over 1.2 million in sales each month.  July may be off the pace so far for the year, but consider that the remainder of the year can deliver an average of just 1.125 million per month and the 14 million mark would still be safe.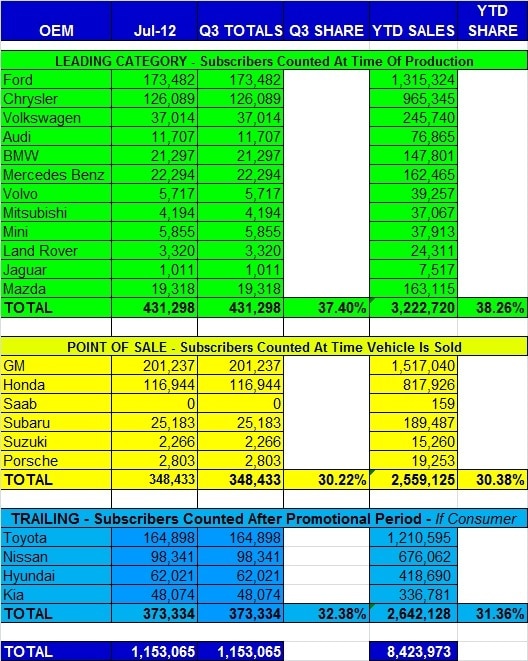 In essence July turned out to be a disappointing month by analyst calculations.  Going into the last week of sales, things seemed to be pacing to deliver a month that could hit 1.2 million, but a weaker closing for the likes of GM and Ford caused the numbers to fall short..  Edmunds was anticipating July to deliver 1.165 million, TruCar was at 1.71 million, Kelly's at 1.6million, while JD Power was expecting what would have been an impressive 1.27 million.  I had my estimates at 1.2 to 1.215 million.
For Satellite radio investors the news is sort of a mixed bag.  Negative headlines took some of the wind out of the sails, but deeper analysis shows that there is actually little to worry about.  Production in July was much higher than normal, supplying subscribers that would not otherwise have been there.  Production was impressive because many companies did away with the normal July 2 week shut-downs.
Another factor we are seeing is the recovery of the Asian brands.  The market share split between the Leading, Point-of-Sale, and Trailing categories is balancing out.  This will provide smoother subscriber numbers as time progresses.  While there is indeed some softness in the auto sector, we are still on a pace that enables SiriusXM (NASDAQ:SIRI) to deliver good numbers.