With the completion of the merger between Sirius and XM, the SDARS relationships may not seem to matter anymore, but what investors need to understand is that there is a period of time where existing OEM deals need to play out, as well as the fact that there will still be two distinct services for a while.
If you read the auto publications, or even watch the local news, auto sales are all doom and gloom. Through July of this year, there have been 8,545,439 sold. By July of 2007, auto sales were at 9,547,824. On a year over year basis, overall sales are off by about 1,000,000 cars or about 12%. Go back to 2006, and sales were at almost 9.9 million through July. For July 2008 only 8 out of the 35 brands tracked had positive year over year sales. Yes, sales are down, but not to an extent that will be drastic to SDARS, and here is why. Installations are ramping up at a rate that is greater than auto sales are slowing. What this means is that a negative impact on OEM numbers is not reflected in SDARS installed OEM receivers. Sirius and XM are still announcing record installations each quarter, and this will continue at least until the end of 2008.
That being said, investors need to be aware that perception is sometimes a strong factor. It is a fact that the OEM channel is a growth driver for Sirius XM Radio. It is a perception that weak auto sales will translate over to satellite radio. There will be a point in the future, when SDARS is virtually ubiquitous in the OEM world where auto sales will directly correlate to SDARS installation. We are not there yet.
The major impact to the SDARS subscriber numbers comes from when the installed OEM receiver is counted as a subscriber. Some deals have the subscription counted at production (Chrysler, Ford), while others wait until the subscriber becomes self paying (Nissan, Toyota). A cut in production will impact numbers on certain deals, while slow sales will carry an impact on others. Understanding the OEM's and their deals helps investors project the OEM subscriber numbers with a bit more clarity.
We caution investors that the chart below reflects OEM sales, and projected SDARS installations. The OEM sales figures are reported by each manufacturer every month. Auto manufacturers do not specify satellite radio installations. Installation rates vary, and many are best estimates derived from announcements made by either the OEM or Sirius XM Radio.
One metric we do know is that the take rate (the percentage of subscribers who become self paying after a trial or promotional period) for Sirius is at 48% and XM is 53%. Given that the OEM channel breakout is about half and half in terms of installations, we project the blended take rate to be about 50%.
Those that follow the sector will note that the numbers we are projecting are ahead of those reported by the companies. There are a few reasons for this. We have company data through June of 2008, and this data, updated each month is now in July. Another component, is the manufacturers such as Toyota where a subscriber is not counted for at least three months, and then only if it becomes self paying. Because the companies do not break these numbers down, we are left to create an estimate.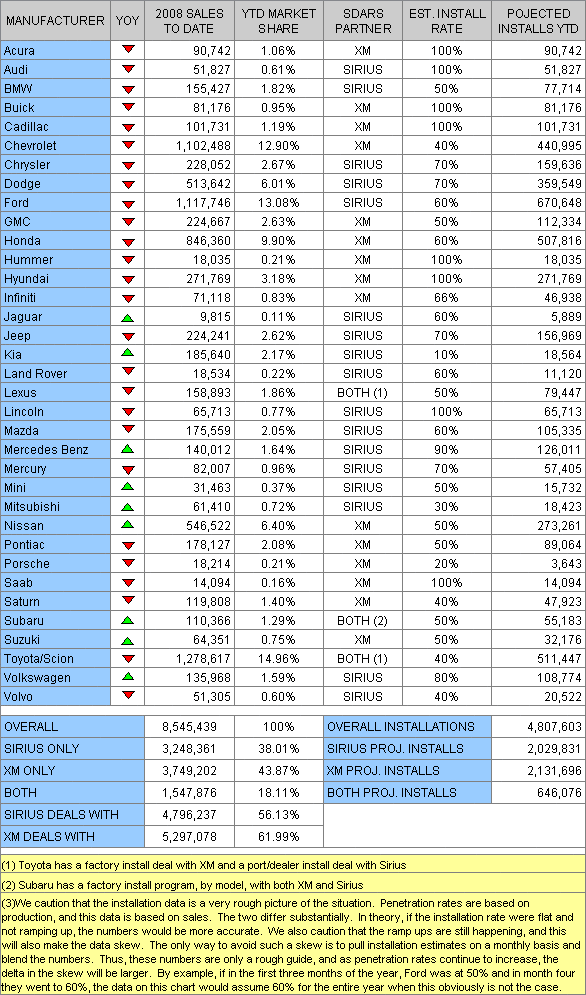 Position: Long Sirius XM. No Position Auto Sector.