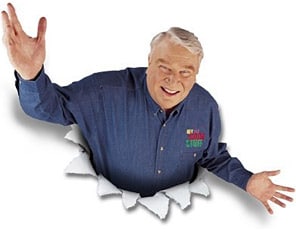 Today Sirius announced that veteran NFL broadcaster and Super Bowl winning head Coach John Madden will return for his fourth season as a commentator on Sirius NFL Radio, channel 124.
Throughout the 2007 NFL season, Madden will join fellow Sirius hosts Adam Schein and Gil Brandt every Sunday on The Stadium Tailgate Show, which airs Sundays from 9am - 12pm ET. Madden will also appear every Friday and Monday throughout the season on The Afternoon Blitz, the talk show hosted by Schein, Solomon Wilcots and Jim Miller that airs weekdays from 3 - 7 pm ET exclusively on Sirius NFL Radio.
I think a more fitting channel for the living legend king of babble would probably Raw Dog but I will take any opportunity I can to listen to his famous mind boggling one liners.
To win in this league, you have to score more points than the other team. --John Madden