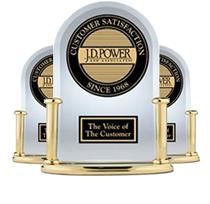 According to a report issued by JD Power, satellite radio is becoming very prevalent in the dashboards of new cars. The survey conducted by JD Power noted that 55% of the respondents stated that their car has satellite radio capability. This represents a sharp 41% increase over the same period last year.
"New-vehicle buyers are looking for the latest technologies in audio systems, and the presence of features such as satellite radio and navigation systems will only increase as manufacturers try to meet consumer demand," said Allison LaDuc, senior research manager of automotive product quality at J.D. Power and Associates.
The survey was not small potatoes either. 81,530 people who bought 2008 model year vehicles participated. 2009 is set to see installation increases even beyond what we have seen in 2008. Extrapolating the 55% into an anticipated 15,000,000 new car sales this year would mean well over 8,000,000 satellite radio installations in OEM's for 2008. With a take rate of 50%, that would mean 4,000,000 subscribers.
The survey also noted problems per 100 vehicles in their audio gear. The results are interesting. If you have an AM/FM/Single CD/SAT head unit, Delphi has the fewest problems, and Fujitsu Ten the most. If your head unit has AM/FM/Multi CD Changer/ SAT, then you hope to have a Clarion unit. Pioneer ranked last in this category.
[JD Power Press Release] via [CNN]
Position - Long SIRI