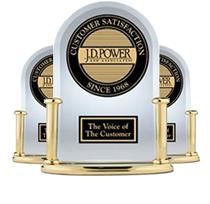 On the heels of Edmunds July auto estimates released yesterday, JD Power has come out with their own estimates for July.  Edmunds projected a SAAR of 12 million.  JD Power is being a bit more aggressive with an anticipated July SAAR of 12.2 million.
The estimate from JD Power translates to sales of 1,076,000.  Edmunds SAAR estimate would bring in a sales figure of about 1,040,000.
Sirius XM relies heavily on the auto channel for subscriptions.  Auto sales of 1 million per month or more carries with it pretty much guaranteed positive quarterly report across all metrics.
Edmunds, in their report, gave some caution to their estimates.  JD Power did not give much in the way of caution in their numbers.
All of that being said, it appears that auto sales are well within the range satellite radio investors want to see and should instill some confidence by the street.  Sirius XM has already guided to 1.1 million subscribers for 2010.
Position - Long Sirius XM Radio