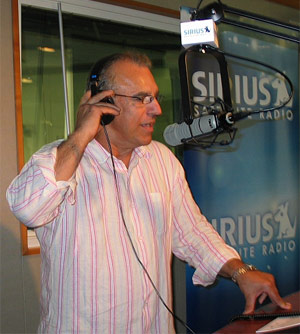 I have always liked Jay Thomas. From television roles including Remo on Mork and Mindy, to Eddie LeBeck on Cheers, to movie roles in Married People, and the Santa Clause movies series, to appearances on Letterman, to his current role as a talk show host on Sirius Satellite Radio. Jay is what radio should be.
Jay Thomas is a persons person. He has knowledge, humor, and a delivery that simply makes him likable. On radio he is fun while at the same time a bit edgy. He is not afraid to talk up even what might seem the most off the wall subject, and he always strives to deliver a good show to the audience. Simply stated, Jay Thomas is a breath of freshness and fun on the Sirius channel line-up.
The Jay Thomas Show is based on the Sirius Stars channel (102) in the afternoons. The show is a "MUST TRY" show. In other words, if you find yourself listening to something else, try giving the Jay Thomas Show a listen. You will not be disappointed. In recent weeks, great news about Jay Thomas has elevated his presence at Sirius. Thomas now hosts a show on Friday mornings on Howard 101. I had written several pieces about the need to fill the Friday morning slot. Stern takes Fridays off, and the master tape theater content, as good as it is, simply was not morning drive material. People wanted someone real in that slot, and now they have it with Jay Thomas filling that role. Additionally, Jay Thomas also DJ's a show on Saturday nights on the Sirius' Totally 70's channel (7) from 8:00 to Midnight. Jay is quite busy, and for Sirius subscribers, this is a good thing.
What makes Jay Thomas good is his outgoing personality and life experiences. Jays career has taken him in many directions, and given him various experiences that are interesting. Thomas has opinions on many subjects, and the show is always entertaining. Jay interacts with his team of co-hosts such as Rodney Lee Conover, Shuli, and Madison. As a team, they keep the show rolling. Thomas also includes callers in the show, and sometimes a show will veer off on a tangent as a result of an interesting caller.
If you have not heard the Jay Thomas Show yet, make it a point to tune in. It is worth a listen. Thomas is one of the high points of Sirius' talk line-up.
As a side note, Sirius should update the Howard 101 web page to include Jay Thomas.
Position - Long Sirius