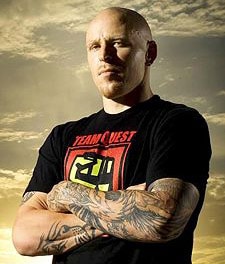 In response to our articles about the lack of a Stern alternative, and the Bubba The Love Sponge show getting slammed, many readers responded with a name that I had heard of but never listened to. The person? Jason Ellis.
Today I made it a point to tune into Sirius Faction (channel 28) at 3:00 PM to get a listen to Jason Ellis. Ellis, Australian born, can only be described with one word. EXTREME. He is also a very busy person. He hosts a show on Sirius faction from 3 to 7, appears on Octane, is working on a reality television show, a movie, has his own band called Taintstick, and is heavily involved in mixed martial arts. With all of this going on in his life, it is no surprise that he puts together an interesting show.
Ellis show is a bit over the top to be what I would term as a Howard Stern alternative, but he would be more than qualified to host a show in the Stern time slot on Friday's or when the Stern crew is on vacation. Ellis is an entertainer, and that is a quality that is needed if you are going to host a four hour show. While the Jason Ellis show is entertaining, he likely has a core audience that is from a younger demographic than my own. That being said, he kept me immersed in the show, and wanting to hear what would come up next. In radio this is a key element to success, and growing an audience.
Ironically, Ellis is competing head to head with Bubba on Sirius, and it was my article about Bubba being taken to task that enabled me to learn about the Jason Ellis show. Those that commented on the post mentioned Ellis, and seemed to have switched from the Bubba show to Ellis' show on Faction. Bubba did do a show on Friday mornings for a period of time, but now that he also has a terrestrial morning show, it is a gig that he can no longer perform. It may well be that the terrestrial deal can give Ellis some additional exposure that once would have gone Bubba's way.
Many Stern fans express frustration at the lack of a live program to air when Stern is off. If Sirius were to try out Ellis in that slot, Bubba could find himself regretting the day that he decided to perform a morning show on terrestrial and an afternoon show on Sirius.
Does Ellis have what it takes to host Friday mornings on Howard 100? In my opinion, based on the show I heard today, he does. In addition, such a move could bolster the entire Sirius faction channel lineup as additional exposure would gravitate there. Make no mistake, Bubba is part of the Stern brand, but he needs to step up his game and deliver. Ellis is young, hungry, and crazy enough to become a radio factor on Sirius.
Position - Long Sirius