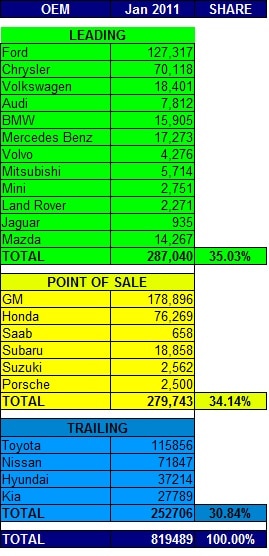 Auto sales for January 2011 are in and the news is great for Sirius XM (NASDAQ: SIRI). January is typically the weakest month of the year in terms of auto sales, but headlines across the board are screaming about double digit sales growth over January 2010. These headlines and January 2011 sales of nearly 820,000 vehicles bodes well for Sirius XM, as the company relies heavily on auto sales to expose consumers to their product.
Auto sales deliver three distinct types of promotional subscribers to Sirius XM. SiriusBuzz is unique in tracking the auto sector in this manner. We categorize the three categories of promotional subscriptions as "LEADING", "POINT OF SALE", and "TRAILING". It is important for investors to understand the dynamics of each type of promotional subscriber because they impact Sirius XM's metrics in differing ways and at different times. The manufacturing numbers carry as much importance as the sales figures. Inventory days also matter and impact Sirius XM. Below is a detailed description of what any SIRI investor should know.
LEADING
This category delivers promotional subscribers to the Sirius XM metrics at the time of manufacture. Thus, in Q1 of 2011 it is not monthly sales that matter as much as monthly production. Partners in this category are outlined in green in the charts associated with this article. With the average inventory being at 50 days from manufacture to sale, Sirius XM gets the benefit of counting subscriber 50 days earlier than the "POINT OF SALE" category. Sirius XM receives payment for the subscription from the OEM at the point of manufacture. That payment is booked as deferred revenue (a liability) on the balance sheet. The deferred revenue starts to become revenue when a consumer buys the automobile. These types of promotional subscriptions also impact metrics such as Average Revenue Per User (ARPU) as well. During that 50 day period between manufacture and sale the monthly revenue from these radios is $0. This is a negative impact on the ARPU metric. The positives of these types of promotional subscriptions is that they are counted as subscribers longer than the consumers trial period. Additionally the company gets back some of their cash investment into the radio (Subscriber Acquisition Costs - SAC) more quickly than with the other promotional categories. This makes the "LEADING" category cash flow friendly. Essentially Sirius XM invests into a radio installation and a mere couple of weeks later gets a paid subscription. They pay money, get it back, then can invest that same money into yet another radio.
POINT OF SALE
"POINT OF SALE" promotional subscriptions are exactly what they sound like. The promotional subscription is activated when the car is sold to the consumer. This category does not impact the deferred revenue line as the consumer is actually receiving the service when the promotional subscription starts. These promotional subscriptions are not as cash flow friendly as the company must wait that 50 days for the car to get from manufacture to the dealer lot and sold. With "POINT OF SALE" the monthly sales figures are quite meaningful. This is because this is when the promotional subscription actually happens. Most satellite radio equipped cars in this category come with a three month subscription. This category is represented by yellow in the charts associated with this article.
TRAILING
"TRAILING" promotional subscriptions are perhaps the most tricky for investors. Essentially cars sold in this category get promotional subscriptions, but are not counted as subscribers unless they become self paying subscribers at the end of the promotional period. The company receives no money for the promotional subscription and thus can not count it in the subscriber totals. Most cars in this category offer a three month promotional subscription. If at the end of three months the consumer elects to keep the service they are then counted as a subscriber. If they elect to decline they are not counted as a deactivation because they were never counted as an activation in the first place. A Toyota sold today can not possibly become a counted subscriber until May 1st 2010. Thus sales in this category will not impact the subscriber metrics until three months later.
In a perfect world we like to see a healthy balance between these types of subscriptions. Such a balance keeps the various metrics Sirius XM reports in check with reality. If one category carries a distinct advantage certain metrics can become skewed to either a positive or negative bias depending on the metric. The closer these three categories are to balanced the easier it is to follow the company performance in the OEM channel.
Auto sales in January came in well below the magic 1 million number we often discuss here at SiriusBuzz. However, with January being the weakest month of the year, sales north of 800,000 units was huge news. With a Seasonally Adjusted Annualized Rate (SAAR) of about 12.5 million 2011's auto sales are poised to approach the 13 million mark, a stark improvement over the 11.6 million that 2010 brought.
With auto sales this high in January Sirius XM should have little trouble averaging quarterly gross subscriber additions of over 2 million. These gross additions will of course be offset by deactivations, but with Sirius XM keeping churn in check, there should be positive subscriber and revenue news each quarter of 2011.
Position - Long Sirius XM Satellite Radio.