As a premium member, you get the data others do not see.  The key this year is the shift in the GM deal.
The Old Deal: - Every GM car sold that was equipped with a satellite radio was counted as a subscriber for 4 months.  That represents a three month trial and another month for marketing efforts.
The New Deal: - Every GM car sold is not counted as a sub at all.  The only way they are counted as a sub is if the consumer elects to become self paying.  The company conversion rate last quarter was about 42%.
This will impact what we consider the pace of subscribers.  It is also the reason that the company is shifting focus to self-pay subscribers.  Bear this in mind this year.  What you will notice in the sales chart below is that about half of the cars sold are not counted as a subscriber unless the person converts.  About 38% are counted when the vehicle is manufactured, and about 12% are counted when the vehicle is sold.  This is a shift from the 33% or so in each category in years past.  Essentially, the new GM deal that hurt the sub number last quarter will begin to convert subs this quarter.  It will take the better part of this year for the transformation in the deal to normalize.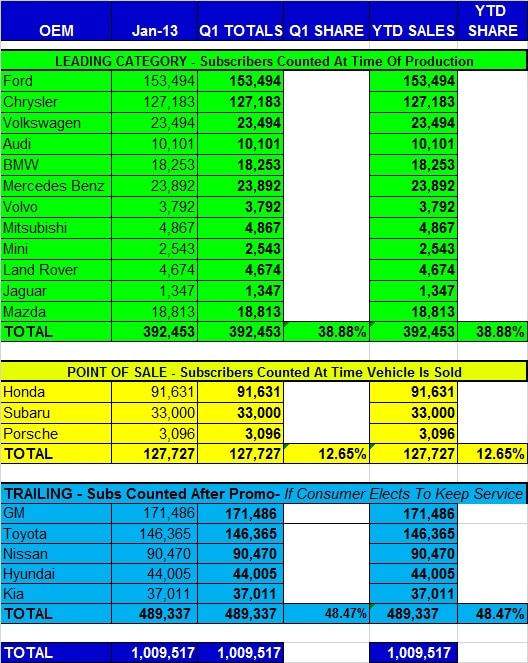 February is usually a strong month, so there is some positive news.  Investors should remember that fleet sales are being hurt because the tax benefit for depreciation of business vehicles that had such sales rise expired with the new year.  Those tax savings are now gone, so the rush to buy before the law changed is over.