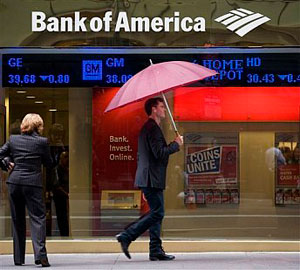 Bank of America analyst Jonathan Jacoby has weighed in on the satellite radio merger again. This time his now infamous "DC Contact" does not seem to weigh into the report. Jacoby is still down on the prospects of the merger, but he is no longer citing the "DC Contact" as a major contributor to his analysis.
Jacoby at one point had cited that if September 10th passed without FCC clock stoppage that the odds for a merger increased. The clock never stopped, but Jacoby never increased his odds of passage, and seems focused on "high hurdles" that must be navigated in order to garner approval.
Jacoby has been in the minority with his merger odds (he estimates about a 30% chance of approval), and in fact has represented the low end of the scale on this issue. His latest opinion is no different. Report excerpts available after the jump...
REPORT EXCERPTS
Sat Radio: We Remain Cautious
Deal Risk + Fundamental Risk = Only Downside Risk from Here?
Satellite radio names are up strongly this morning due to a competitor's comments on the likelihood that the DOJ will not sue to block the transaction.
We remain CAUTIOUS – there is limited upside to these names from here – deal or no deal. High hurdles both at the DOJ/FCC – much more so than the Street believes.
1) At the DOJ, the companies need to prove that there is a true substitute to satellite radio. And while we are not anti-trust experts, we note that the hurdle maybe difficult, as there is no similar service that offers uncensored, (mainly) commercial free, nationally broadcast audio content, and why we believe our competitor's economic argument on expected deal approval may turn out to be wrong. The case of raising prices resulting in switching only matters in anti-trust for a fungible good, and not a substitute good like satellite radio. If the merged XM+SIRI raise prices, some people will choose an inferior product (terrestrial radio), but there it may be hard for the DOJ to find a comparable substitute. In our view, it may prove to be difficult to see that satellite radio has any direct competitive substitute, nor will it be able to do so anytime soon (i.e., beyond the two-year horizon that the DOJ looks at).
2) At the FCC, while it would appear that a Republican led commission would simply follow any DOJ ruling, our contacts are somewhat unsure if this is still the case. There is a high-level of disarray at the FCC, which was demonstrated by the recent cable review. Commissioner McDowell could prove to be the wild-card. There is the risk that the FCC simply "stalls" its review process post a DOJ ruling (i.e., Bell Atlantic/NYMEX merger took 5 months in 1996).
If the deal is not approved, there is significant downside risk to the names. We have actually lowered our "stand-alone" value (assuming a no deal scenario) for XM & SIRI. We now estimate that SIRI would be worth ~$1.85 and XMSR would be worth $8.50 if the deal is not approved, as key metrics continue to further deteriorate for the industry:
a) retail sales are extremely weak,
b) churn will continue rise,
c) royalty payments could be higher than expectations,
d) revenue share will continue to tick-up w/ new/extended OEM deals.
If a merger is approved – not much fundamental upside from here. In the case the merger is approved, assuming ~$3.6B in synergies, XM is worth $3.00 and SIRI is worth $13.80. Most synergies won't be realized until the end of the decade. However, we are not 'naïve.' We think investors will most likely run these stocks post-merger approval.
Risk/Reward is to be cautious on these names. Investors seem to be highly optimistic on deal approval and potential synergies post deal. We remain much more cautious, and advise investors to remain cautious.
Jacoby with a $3.00 target on XM and a $13.80 target on Sirius? In a rush to get the report out? It seems this report was not proofed.
Tyler Savery Position - Long Sirius, Long XM