Another day and the story remains the same.  SiriusXM has remained range bound, but is this an equity that is stuck?  The answer is not easy.  In some ways it is stuck, but the stock is getting so coiled that at some point I am expecting a substantial move (i.e. 5%) in one direction or another.
The story here again remains pretty much the same.  In fact, it is likely getting quite tiresome and boring.  You may even be tempted to not pay attention any more.  PAY ATTENTION!  This equity is getting coiled up and wants to make a substantial move.  It could be up or it could be down.  There are compelling reasons why it could go either way.  Lack of news simply does not give any reason for a move.  Good fundamentals are understood, but when will they bear fruit?
To the downside I see the 200 day EMA at about $2.80 as a possibility that we must consider.  I consider that level a possible basement for this stock.  To the upside I see a wall at about $3.10 to $3.15 and another at $3.25.  From a technical standpoint it is actually easier to move down than up.  That does not mean it will happen.  It simply means that we need to be prepared for it.
If you are looking to enter this equity, it may be a good area.  Think about it.  The risk is a 10% drop to $2.80, while the possible gain and run to $3.50 or $4.00 over the next 12 months is quite possible.  There are good fundamentals and share buybacks that can defend the stock.
Volume
Volume was low again, but it is creeping up.  38 million shares crossed the board today and the equity moved up a couple of cents.  What you want to see is compelling volume.  Volume that is above average, and preferably above 100 million shares.  I still feel an upward bias is in the cards for mid term and beyond.  Now it is timing.

Support and Resistance
Support and resistance has shuffled a bit, but the essential story is the same.  We now see that support below is weak, while the strong resistance above has now shifted down to $3.10.  $3.10 is a key.  It needs to be passed on over 100 million shares to call it a strong move and carry a hope of holding.  Anything less is not strong.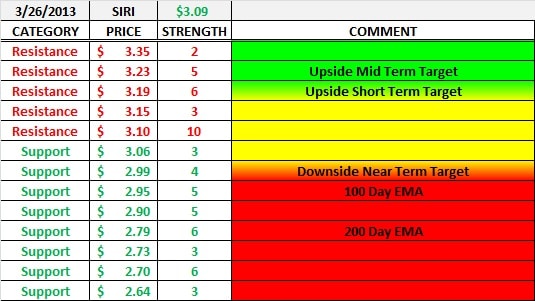 Exponential Moving Averages
The EMA's have taken away a caution flag but added a warning flag.  We are now very bearish in the short term, bearish in the mid term, and bullish in the long term.  We have the 5, 13, 20, and 50 day EMA's all within 3 cents of each other.  As stated, $3.10 is now the key.  Pay close attention at these levels.