Up a bit, then down a bit.  The story seems to be the same day after day with SiriusXM.  We have an equity that seems to want to run, but for whatever reason it can not.  I remain bullish in the longer term, and have a caution to the downside to the 100 day exponential moving average.  For investors there has been frustration for months.  The wall that we all knew existed at $3.25 since last Fall has remained a challenge.  It has been tested a few times, but getting past it and remaining there is, thus far out of reach.
Volume
The volume remains low.  Just 28 million shares crossed the board today.  I find it interesting that many investors seem to be on the sidelines.  SiriusXM has strong fundamentals yet, for whatever reason, can not seem to rise on fundamentals alone.  With no real news on the wires, it may be that we are range bound with a $3.00 baseline and a $3.25 peak.  Personally I believe that this equity is very close to making at least a brief run to $3.30 in the short to mid term, but the only way that happens is off of a baseline of at least $3.15, and a move on volume of at least 100 million shares.

Support and Resistance 
The levels have not changed much and neither has the story.  The downside risk is still $3.00 and the upside pop needs to pass $3.15 on volume and test $3.25 on volume.  The support at $3.09 was broken today.  This, by definition means that we need to consider the next level down.  That level is $2.99.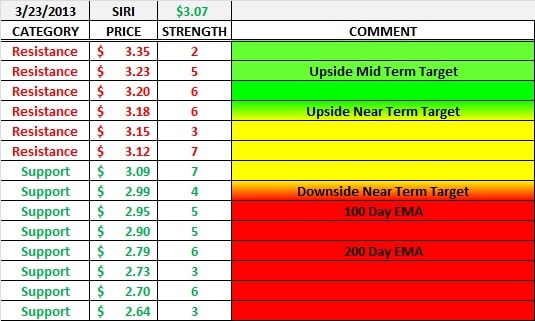 Exponential Moving Averages - EMA's
A little bit of bad news today.  We have caution flags across the board and now have 3 warning flags.  I want to caution that an added warning flag may appear if SiriusXM does not get above $3.10 tomorrow.  Pay close attention to the volume in the early action.  If this equity heads down again, it is possible that we test the 100 day EMA at $2.99.  On the positive side, this downward move today happened on low volume.