SiriusXM does not seem to be able to move.  Support is broken and the EMA's are consolidating at $3.10.  The equity closed at $3.08 on moderate volume.  The price of the equity is below the 5, 13, 20, and 50 day EMA's and just above the 100 day EMA which sits at about $2.95.The good news is that even if the equity were to test the 200 day EMA, that average is now up at $2.80.  While testing that level may seem real bad, it is far better than the battle that was happening for weeks at $2.50.
For whatever reason, the equity simply seems stuck.  Financials should be good, but that does not seem to be enough at the moment to drive the stock.  I feel that this equity wants to test higher, but it needs a solid foundation from which to build.  I think that $2.95 is a possible base with a very remote chance at $2.80.  If we do test lower levels we should have plenty of warning.  The next test is $3.15.
Volume 
We want to see the equity test above the $3.11 level on volume of at lest 70 million.  If that does not happen then there may not be enough strength to conduct a real test of $3.15.  We want to pass $3.15 on at least 80 million shares.

Support and Resistance
The key levels here are $2.99 below and $3.10 (preferably $3.11) above.  We are seeing the equity drifting to lower and lower levels.  This is changing support and resistance levels as well as consolidating the EMA's at about $3.10.  This creates an interesting dynamic.  The $3.10 level can either become a wall of resistance or a strong foundation of support.  The action point is whether or not this equity goes ahead and tests $2.99 or can close above $3.10 on good volume.  Pay attention because the action level will be established in the next few sessions.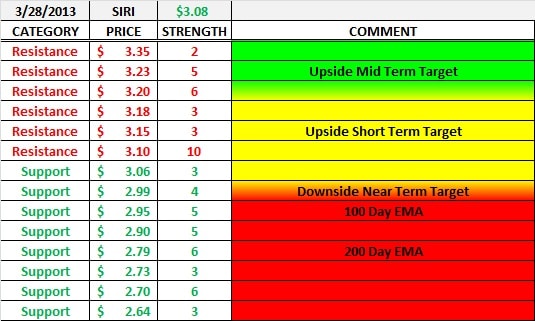 Exponential Moving Averages - EMA's 
This is getting interesting!  The EMA's are consolidating at about $3.10, just above current levels.  This is getting to be a coiled spring that wants to let loose one way or the other.  The risk?  The 200 day EMA at about $2.80.  The potential?  Testing $3.25 again.  Pay close attention at current levels and if this equity tests below $2.99.  On the upside pay attention at about $3.15.