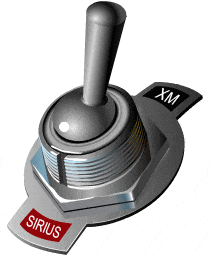 This may seem like an odd article, but despite a merger a few years ago, satellite radio is still a very divided proposition.  While Sirius XM (NASDAQ:SIRI) puts on an appearance of one united company, two distinct services still exist.  Satellite radio subscribers are either on the Sirius platform or the XM platform.  The burning question is, when will the company finally unite platforms, and is it a good idea to make a switch?
First things first, it is common knowledge to most investors of SIRI that the desire of Sirius XM is to migrate to the XM platform.  Most consumers however are still unaware of this unofficial fact.  The evidence of this migration to one platform can be seen in many places, but none so clear as the fact that new Sirius branded radios are not satellite radio 2.0 compatible.  The Starmate 8, a new Sirius unit is simply an updated version of the old Startmate, while the Edge and the upcoming Lynx  are both much more capable and deliver satellite radio 2.0 features.
As most know, the OEM channel still carries the same divide.  Certain cars feature Sirius, while others feature XM.  Unfortunately there is little that a consumer can do at this point to make a switch unless they migrate to a plug and play retail radio.  Sirius XM had a merger condition that mandated that the company not make legacy radio's obsolete.  Because of this merger condition, a true unification of the satellite radio platforms will not be possible for quite some time.  In fact it could be as much as 5 years away.
Many readers may now ask why consider switching to XM now if the Sirius side will still be around for 5 years?  There are several reasons that readers may want to consider:
While Sirius XM promised not to out-date legacy radios, there was no such promise that they needed to make any capabilities beyond what existed at the merger available to such radios.  This is exactly why XM platform radios are satellite radio 2.0 capable and Sirius branded radios (even the brand new Starmate8) are not.  Moving forward all new channels and services can be limited to certain radios and will be on the XM platform.
Consumers can get more content for their dollar on the XM platform.  After the merger Sirius subscribers were offered a tier called "Best of XM" for an additional $4 per month.  This tier allowed Sirius subscribers to get several XM channels on top of the Sirius channels they already had.  That package was later renamed Sirius Premier.  XM had a similar package called "Best of Sirius".  The main difference between the two has been Major League Baseball.  MLB has traditionally been available on the XM platform, while the other sports have been carried on Sirius.  In new negotiations the NHL and NBA also migrated to XM, but were still carried on Sirius.  A Sirius consumer that got the "Best of XM" still does not get baseball.  The reason is that MLB holds the options and cards when it comes to the contract.  Sirius XM pays MLB $60 per year, and in order to bring baseball to Sirius consumers, MLB wants more money.  The already pricey deal would become even more expensive.  In contrast, the NFL, which is traditionally on Sirius is available to XM subscribers with the "Best Of" package.  Thus in a head to head comparison, XM subscribers get a better breadth of content than Sirius subscribers.
Pricing is another key factor.  Sirius XM now has an "All Access" pricing plan that gives consumers regular satellite radio, the premier package, the Internet feed, and any satellite radio 2.0 channels to consumers for an annual price of $199 per year.  The base service is typically $155 per year with the price set to go up to $174 per year in January.  If you are a Sirius consumer you can still get all access, but satellite radio 2.0 channels will only be available to you on the Internet side of the service, and you still will not get Major League Baseball..  Meanwhile, XM subscribers can get the satellite feed of 2.0 channels as well as the NFL for a subscription that already comes with baseball.  For what equates to $2 more per month you are adding over 20 new channels while not having to give up on sports coverage.  In addition XM subscribers could see the added benefit of additional new technology as the company releases it.
With those simple reasons, a switch from the Sirius platform to the XM platform makes perfect sense in most cases if you are considering upgrading an existing retail satellite radio.  It also makes perfect sense for new retail subscribers to select an XM platform radio over a Sirius platform radio.
As with anything however, there is a flip side to this whole issue. Howard Stern fans.  Howard is on the Sirius platform.  The only way an XM subscriber can listen to Howard Stern is by becoming a subscriber to XM Premier, a $4 per month increase in the subscription cost.  Many Sirius subscribers have been loyal to the Sirius platform for years because of the shock jock.  If a Sirius subscriber want all of the new capabilities, they would need to be in a more expensive package now.  With all of that being said, is the $2 per month premium over the base price worth it?  I say for most that the answer will be yes.
Up until now there has not really been a compelling reason for people to make a switch.  Sirius XM has only recently updated hardware and announced the "All Access" price point.  Now may be the perfect time to take the leap to the XM platform and take advantage of the "All Access" pricing.
This news may irk some consumers, but it is the reality of a merged company trying to get itself onto one more efficient platform.  When this happens, the company can offer a lot more to all who love satellite radio.
Position – Long Sirius XM