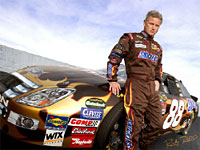 Back in February we talked about the new fan's choice that allows NASCAR fans to vote for their favorite driver to be featured on Ch. 140 each race day. Who would have thought that when this great new feature was released that Ricky Rudd, a driver that is currently ranked 29th, would win the fan's choice every single week?
I did a little digging around and what I have come to find out is that "Granny" over at the Ricky Rudd forums has started a grassroots campaign to get all of the forum members to go vote for Ricky on the Sirius website. The only problem I have with this is that admittedly 75% of the people voting do not even subscribe to Sirius.
This is a calling to all other drivers, its time to get your faithful army of fans together and get up into that fan's choice spot. I don't have enough readers in the young stages of this blog but, if I did I would surely get some people together, in true Sanjaya fashion just to get anyone but Ricky into that #10 slot.