UPDATE: The simple answer to this question is NO.  I am glad to report that not only is iHeartRadio holding its own, but it appears to be in third place among the big 5 IP delivered audio entertainment players.  The initial post below did seem to indicate that iHeart was falling off of the map.  A simple error caused the confusion, and for that I apologize.  iHeartRadio switched from "iHeartRadio.com" to simply "iHeart.com".  The older address simply forwards to the newer one.  I will leave the initial article in tact in standard text and all corrections in italicized text.  As a result of the initial error I was pointed in the right direction from Clear Channel.
iHeartRadio made a bold entry onto the scene back in 2011 with a pretty good concept.  It is a collection of hundreds of terrestrial radio station broadcasts all available in one place that allows listeners to receive virtually any type of content they want any time via a smartphone or streamed through a dashboard app in newer cars.  The Clear Channel run concept even signed on competing terrestrial stations and the company sponsored huge concerts to launch the service. (chart below reflects the old url, iHeartRadio  now uses the web address iheart.com instead of iheartradio.com)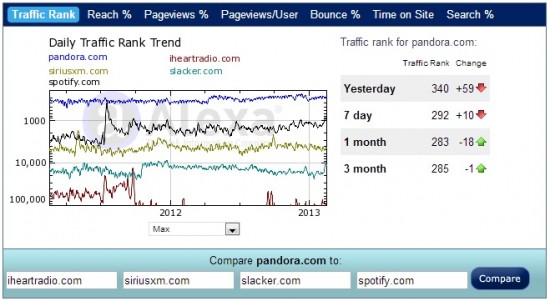 Over the past several months it seems that the buzz surrounding iHeart Radio has faded away.  There is indeed less buzz, but the company is progressing well as indicated by its web traffic.  The company is no longer doing a marketing blitz, advertisements for the service do not seem to be happening as much, and simply stated, the service seems to be set adrift these days.  In looking at popular website traffic counter Alexa, it would seem that while competitors like SiriusXM, Pandora, Slacker and Spotify have traction, iHeart is falling off of the map.  iHearts updated and accurate stats in the chart below.
The peak for iHeartRadio seems to have been the big Las Vegas concert event held in the Fall of 2011.  Since that day iHeart has barely made a blip on the proverbial radar of   the audio entertainment landscape.  What seems clear is that in order to remain relevant in this sector a company needs to keep the PR machine and exposure rate very high.  Some companies like SiriusXM do this through being in cars.  Others, like Slacker, Pandora, and Spotify are heavily promoted on smartphone platforms.
It could be said that consumers simply have no desire to listen to regular radio with advertisements and all over a smartphone.  While that may have some truth, iHeart is more than simply your local stations.  You can actually gain exposure to tons of stations with the service.  Perhaps the advent of the customization features offered by other services is a bigger and better draw.  One thing is certain.  If iHeart wants to remain viable it will need to make itself relevant again and keep the PR machine in top gear.
My apologies to readers for any confusion and to iHeart and Clear Channel as well.