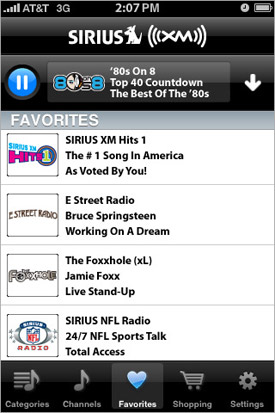 I recently put my hands onto an iPod Touch in preparation for the Sirius XM launch of their iPhone and iPod Touch application. I wanted to get the device early on so that I could tinker with it a bit prior to the application coming out. Having never owned an iPod, I must say I was instantly impressed with the functionality, ease of use, and capabilities that the device offers. I spent a good couple of hours tooling around, downloading applications, and even rented a movie. The ability to buy applications, movies, television shows, and music instantly is a wondrous business model, and once you get a device such as this, there is almost no looking back. I will find it most difficult to part ways with the iPod Touch.
The iPod touch is identical to the iPhone, with the exception of the telephone aspect. As a Blackberry fan and user, I could easily see myself swayed to the iPhone side of the aisle after using the iPod Touch for only a couple of hours. Coming from a guy who is into gadgets, and has his Blackberry tethered to his hip, that is high praise.
Typically for satellite radio, June has always meant that a new and trendy satellite radio would be unleashed on the retail channel. This year that trendy new satellite radio is not a piece of hardware, but rather a software application that links up to what can only be described as the most innovative hardware out there.
The beauty of this move is that with Sirius XM boosting their Internet line-up, to include sports news, and specialized music, there is instant value in existing subscribers upgrading their service to include the Internet feed. On top of that, the additional programming allows Sirius XM to offer content that simply is not available with services such as Slacker or Pandora. This will attract new customers to the fold. One key element that is still unclear is whether the Sirius XM application will cache content in a similar fashion to Slacker. If Sirius XM does this, the value of getting a subscription increases dramatically.
The beauty in devices such as the iPod Touch and iPhone over a traditional satellite radio receiver is that they are multi-functioning devices. There isn't a satellite radio out there that also allows you to track expenses, play a few mindless games, make calls, and also surf the net. The Apple products put almost any electronic desire in the palm of your hand in a single device. The need to carry around two or three devices has simply evaporated.
It is an application such as this that also adds value to an OEM subscription. Many OEM subscribers are forced into a position of leaving all of satellite radio's content cooped up in their car. If they want satellite radio in their house, they are forced to buy a retail radio and additional subscription, or buy the Internet feed and stream it through their PC. The iPod and iPhone take the next logical step. It is one device that allows consumers the most bang for their subscription dollar. Now they can have SDARS is their cars, tunes in the gym, and even hook up their iPod to virtually any stereo in existence! Why pay subsidies to install radio in the used car market when the consumer already has a device capable of streaming Sirius XM on their hip?
As for the Sirius XM app, there are positives and negatives which will be covered in this review. Downloading the app is free, and comes with a seven day free trial. I love the idea that the download is free, but firmly believe that the trial period is too short. In my opinion, people need a decent chance to try out and explore the service Seven days simply does not provide enough time for someone to fall in love with the service, and understand the value behind it.
The most obvious negative came with the news that Howard Stern and his channels would not be included in the app. The ire was instant, and hundreds of Stern fans flocked to various sites, and even iTunes to lodge their complaints. While I believe the absence of Stern is a huge mistake, there is still 120 great channels of satellite radio to listen to. A reason for Sterns absence has not been disclosed, but consumers and investors alike are in hopes that Stern will soon appear on the service.
The functionality of the app is very straight forward and user friendly. Featured at the bottom of the screen are the mainstay navigation buttons. Categories, Channels, Favorites, Shopping, and Settings.
Categories Button
This button brings you to a categorical listing of what Sirius XM offers on the service. Channels are divided into 18 categories, and by doing this users can easily locate the type of content they want to hear. One improvement I would like to see is a slight shade differential between the categories. This simple change would make the page appear to have more depth, as well as let a driver more easily differentiate the various categories.
Channels
This function allows the user to scroll through all of the available channels with the flick of a finger. Channels are categorized for ease of navigation, and feature the channel logos that we have all become familiar with. Absent from the screen are any channel numbers, which means direct tuning input is not an option. One improvement the company should consider is a channel preview function whereby you can see what is playing on another channel prior to selecting it. Additionally, I would like to see a jump button on the application, which would allow for quick access to the previously listened to channel.
Favorites
The Favorites button allows you to save your favorite channels in one convenient place. The instructions tell the user to "click on the song above to save the channel as a favorite". The instructions seem simple, but when listening to Fox News, there is no song. The instructions should say, "click on the title bar above to save channel as a favorite". Am I Nit-picking? Yes, but little things like this cheapen the brand and experience. Overall, the favorites section is well thought out, and makes the user experience more user friendly.
Shopping
Most buttons are self explanatory, but the shopping button offers something that will be new to Sirius XM subscribers. If you hear a song you like, you can buy that song directly through your iTunes account. A simple concept that allows iTunes users to combine music discovery with their overall experience. This function is a financial winner for Apple, and Sirius XM will likely get a referral fee for their efforts.
Settings
The settings button is pretty simple to understand, and outlines how to use the app. The descriptions are straight forward, and the few minutes it takes to read these tips will give users a better overall experience.
Another cool feature on the app is the on-screen volume control which users can hide if they so desire. For parents, channel blocking is available, and you can even hide these blocked channels from the display. One missing component is the ability to lock the screen so that accidental channel changes, etc. can be avoided.
What I would like to see
Aside from the items mentioned above, there are a few things I would like to see added to this app for future releases:
A function that allows you to continue listening to Sirius XM while you use another app.
Album art, artist information, and lyrics. Other competing service offer this feature, and it is pretty cool. Such features would take this app to the next level.
A schedule section that gives users a guide of various shows and hosts.
A car/house dock that not only charges the iPod, but allows access to the standard satellite channels via an optional satellite radio antenna when docked.
User customized channels like other services have.
A mute button for instant silence if needed.
Overall, the Sirius XM app is slick, and provides a new outlet for the company to garner subscribers, and for consumers to access the service. It adds value to existing subscriptions by giving users the ability to take their music with them. If the iPhone app includes you favorite channels, it will solve satellite reception issues with relative ease. If you are in cell range or WiFi range, you are good to go.
Position: Long Sirius XM, No Position Apple.