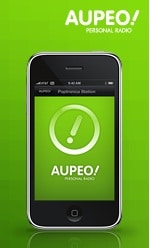 The concept of Internet radio in the car still seems far away to some, but it is closer than many think. With the integration of smart phones to the car, the Internet has essentially become connected. We can all debate the quality of the signal, drop-outs, speed of the connection, and royalty rates, but at the end of the day things are happening in this sector and new deals continue to be struck.
The latest is a German start-up Internet radio offering called Aupeo. Like Pandora, Aupeo has stock channels and allows for the creation of custom channels. Aupeo recently announced a deal with Mini, a product of the BMW brand. The service will not be standard, but is an option with a price tag of just over $300. The service works with a specialized iPhone app branded by Mini, and includes four Mini playlist channels exclusive to Mini car owners.
Last month we wrote about Orange, a cell company in France, cutting an exclusive mobile music deal with Deezer, another internet radio offering. While these deals are across the pond and not here, it is clear that things Internet radio continues to gain traction, especially in the absence of satellite radio as we see in Europe.
Some may argue that deals in Europe have nothing to do with Sirius XM Radio. Sirius XM is known as a satellite service, but they also have an Internet offering over the Internet known as Sirius XM Internet Radio. In a very long range situation, there could be a day where Sirius XM expands to other markets either via satellite or Internet. In another scenerio, Sirius XM as well as investors of Sirius XM can monitor these developments to see how much traction they gain and how popular they are. This is the reason we here at SiriusBuzz monitor what is happening on competing platforms not just nationally, but globally as well.
Position - Long Sirius XM Radio