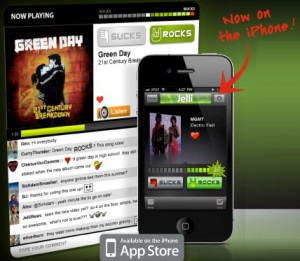 We have all heard of Pandora, Slacker, and iHeartRadio, but it has been a while since we have heard any real news from Internet Radio operator Jelli. The company provides an interesting take on Internet radio, and over the past year has made moves to take their service not only to the world of smart-phones, but terrestrial radio as well.
Jelli announced today that two Las Vegas radio stations are giving up their own programming and instead relying on Jelli, and by extension Jelli users to dictate what is played. Jelli takes the Pandora concept of personalized radio grooming via the "thumbs-up and thumbs-down" to a new level by allowing the aggregate of users to select and groom a playlist via "sucks" and "rocks" buttons as well as a "rocket" (take the song to the top) or "bomb" (get this song off the air NOW).


The two Las Vegas stations, KHIJ-FM and KVBE-FM, turning over their full time programming to Jelli may not seem like a big deal, but they are just the beginning. Jelli already has deals with mega media companies like CBS Radio and Triton Media, which host Jelli-programmed shows (not 24/7) nationwide in 25 different markets. Radio stations like KRock and WYSP are among some of the more recognizable stations deploying Jelli at least part of the time.
The concept is certainly interesting. Jelli subscribers get to call the shots on the channel. Jelli can revenue from advertising on their site (if the choose) as well as from radio stations. Radio stations get to have someone else do their programming, and consumer, in theory, are getting what they want. If Jelli can go viral it could redefine radio with an all new concept in a request line.
Could Sirius XM employ something similar? The simple answer is yes. The question is whether they want to dedicate some channels to a concept like this. Of course, they could also simply use Jelli to program a few channels. It might even be a good idea if Jelli continues to gain traction.
Position - Long Sirius XM