Well, it is never easy with this stock.  We had light volume all day long and then had heavy volume on a move down to the 50 day moving average.  The equity tested $2.69 and bounced, but the action was all right at the close, so it makes it a bit more difficult to assess.  Essentially this still has the markings of consolidation, but the bigger volume to the downside at the end of the day raises some concerns.
The action was not enough top bring back warning flags, but was enough to raise some cautions.  The EMA's took a hit on the close.  The 5 and 13 day averages are now at $2.74, and 20 day is sitting at $2.75.  The 50 day is at $2.70.  We are now seeing the exact opposite of what we saw last week.  The cautions have appeared, and warning flags have been added for good measure.  This is now two down days in a row, the beginnings of a trend.
I am not seeing a precipitous drop, but we do need to keep $2.57 on our radar screen.  I will have some new recommendations on the mock account outlined below.  It is important to note that we are now below the 5, 213, and 20 day average, but above the 50.
Volume 
Volume was light until the end of the day, when a wave of volume came in taking the equity down.  The early volume was classic consolidation volume.  The late day volume was above consolidation and strong to the downside.  This is enough to cause me a little worry on a dip.  I will be a seller in my mock portfolio of Level 1 and Level 2 Over Core if the equity hits $2.68.  I would sell core position if the equity goes below $2.57.

Support and Resistance
The support and resistance levels remain essentially the same.   We have strong resistance now at $2.77 and moderate support at $2.66.  Bear in mind the equity is sitting right on the 50 day EMA at $2.70.  I see the path down as being easier than the path up at this point.  It is still my belief that the equity is tightly wound, and a bigger move is poised to happen at some point soon.  It makes active trading at these levels difficult at best.  If you are savvy enough you can pull it off.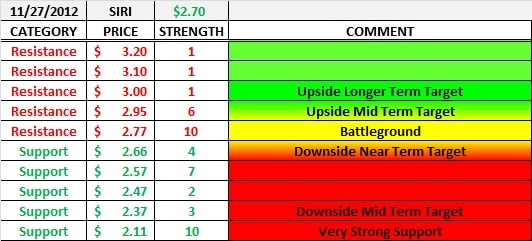 Exponential Moving Averages - EMA's
We went from all green to three cautions and two warnings in one day.  The range is so tight we might see this happen a few times before the equity picks a direction.  Long term SiriusXM is attractive.  Short term it is flip flopping between bearish and bullish.  What we need to see is the equity close above $2.75 to clear the cautions and warnings.  With $2.75 being so close to the resistance point, we will actually prefer to see volume and a breakout above $2.77.  Shy of that we are in flip-flop mode.  Key levels are $2.70, $2,66, and $2.77.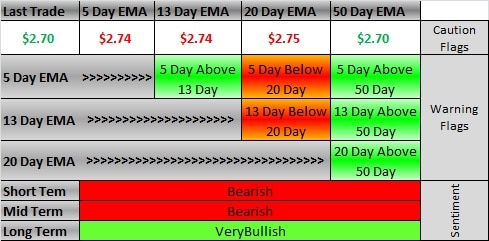 Mock Account - Started With 1,000 shares at $2.76
The mock account is now down $60.  There were no triggers today so all shares were held.  My strategy for tomorrow is to be a seller of Level 1 Over Core and Level 2 Over Core shares if the equity hits $2.68 on volume.  The core will remain in tact unless the equity touches $2.57 (I do not see this happening).

Summary
Watch $2.70 closely and if it breaks $2.66.  I am risking my entire over core on the possibility of testing $2.62 on an overshoot of the support level.  If this transaction happens and volume is light at just above $2.60, then I re-enter with a buy.  Bullet points will notify you of actions in the mock account.