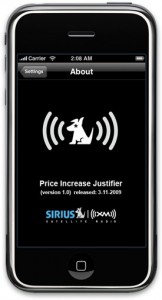 The Sirius XM app is out, and is a very popular download. It ranks among the most frequently downloaded apps not only in the music category, but overall. The app was an instant success despite the absence of Howard Stern, but the popularity has slipped in recent days, falling behind apps such as Paper Toss and a pinball game titled Wild West.
So how can Sirius XM make the app more of a success? In my opinion, they should make it more interactive. This weekend I found myself listening to Boneyard (Sirius 19 and XM 53). Boneyard is doing a countdown of Rush songs. The countdown was formulated by fan emails regarding the popularity Rush songs. I learned of this by cross promotion on Classic Rewind, and found myself tuning into Boneyard to catch songs from what is one of my favorite bands. This got me thinking.
I have always felt that Sirius XM has not done enough to utilize their web presence. With the iPhone app, the company has an opportunity to make the service more interactive for consumers. Why not upgrade the existing app to include some features that allow subscribers to feel more a part of the service?
Song request Function - A simple function that allows users to submit a song request. The subscriber can enter the channel and song. The company could then promote the $3 per month web tier by having a bumper such as " As requested through the iPhone app"
Contest Function - A simple function that allows users to find all Sirius XM contests in one easy to use place. This function should be part of the app, as well as part of the web service.
"For Profit" Survey Function - A volunteer based function that connects subscribers with the companies that want to advertise to them. The company collects a fee from advertisers, produces a survey, and then gives subscribers points that can be used towards new hardware, or subscription costs. This gives value to advertisers as well as subscribers. Because it is volunteer based, those that do not want to participate do not have to.
Channel Specific Links - Provide links to specific channels. This would allow users to get a description of the channels, and submit comments, and even link to Twitter, Facebook and YouTube pages dedicated to that channel.
Search Function - This is a function that would allow users to enter an artist name, song name, or talk show host. The app would then tell the user where on Sirius XM that the artist, song or person can be found. An Eagles fan could enter "Eagles", and be directed to the channels that play the most eagles songs.
New functions such would make Sirius XM far more interactive for fans, a key component to the popularity of services such as Pandora and Slacker which allow user customized stations. The more value consumers see in an app, the more frequently they will use it. Hopefully Sirius XM is considering such upgrades for not only the app, but for their general website as well.
Position: Long Sirius XM, No Position Apple.