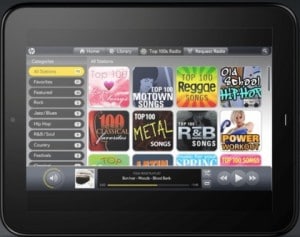 If you ever thought that cloud based solutions were a pipe dream it is time to wake up. Apple and Google have been working toward it for quite some time now and Amazon has already launched CloudDrive, a service for music storage. Now HP is getting into the game by combining cloud based music syncing with their new HP TouchPad. The company also promises that the cloud storage will be accessible with their Palm based smart-phones.
If the TouchPad comes out in early summer it is possible that they beat Apple and Google to the punch in much the same way Amazon beat the two giants with their cloud based music store. It appears that HP's TouchPad will come shipped with a music syncing solution that uses cloud servers to sync and remotely store your music library. In addition the TouchPad will use a "smart algorithm" that places the music which the user is most likely to listen directly on the device (local storage).
In 2010 HP acquired Melodeo, a music streaming company. We can now see the reasoning behind the acquisition. The TouchPad, using Melodeo technology allows smart local caching and streaming of music not in the user's library. This will take care of the "music discovery" aspect of audio entertainment that is oft referenced in the competitive landscape.
For investors in Sirius XM things like this are something to watch and pay close attention to. Cloud based services will not be going away any time soon. In fact, we will see more and more cloud based services over the coming years.
Currently Sirius XM is linking to Amazon and iTunes for music sales. Whether their referral method stays as the business model is yet to be seen, but it does make sense at the moment. The bread and butter for Sirius XM is their exclusive radio content and subscription fees and not selling music tracks. Perhaps partnering with all services is the best move for the satellite radio provider. This way they do not alienate consumers or force them into one solution.
What the company may want to consider is adding capabilities in their apps for users to access their cloud stored library without leaving the Sirius XM app. Another smart move would be taking the "tagging" feature to the next level on apps with instant buying capabilities like that of their Internet radio media player. If a user hears something they want, they buy it now. These simple steps will keep consumers within the Sirius XM environment, an important aspect of the business going forward.
Clearly the audio entertainment landscape will include many players, including the personal libraries of consumers. The key is maintaining market share, offering perceived value to the consumer, and keeping the consumer within your realm, all while working on smart growth. At this point Internet radio is more of an accessory to terrestrial and satellite listening. That dynamic is shifting, but Sirius XM has the content to keep people on board.
[via PreCentral.net]
Position - Long Sirius XM Radio, No Position HP