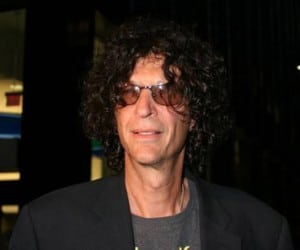 News broke today on TMZ that Howard Stern is suing Sirius XM Radio. The radio icon has long demonstrated differences of opinion with his current and former employers. Some of these differences have indeed landed him in law suits.
Ironically, I felt that Sirius XM had a suit against Stern when he did not allow his radio show to be broadcast over apps for smart phones, but did allow for internet streaming. I think Sirius XM had a decent case, and a great argument, but the company must have been unwilling to pursue the issue, perhaps fearing the negative appearances it would make, and knowing they needed to negotiate with him in another year. It would seem that Howard does not have the same feelings when it comes to the sensitivity of such things.
To be fair, the suit is not being brought by Howard personally, but rather his production company, One Twelve. While this veil may make him feel better, and even offer some "deny-ability", in the end, he is in effect at war with Sirius XM over stock options.
The issue stems back to the original (often misunderstood) contract with Sirius. How a new deal was struck without the sides ironing this out is beyond me. One possible explanation is that Sterns camp did not express frustration about the issue until after the new deal was signed.
It would appear that The King of  all Media's production company is wanting to count the total subscribers of Sirius and XM as a result of the merger as support for their argument that the subscriber targets that would pay bonuses to Howard and his agent, Don Buchwald, were met. If correct, Sirius XM would be required to award additional shares of stock. Howard has said on several occasions that it was his presence on Sirius that forced XM to merge with Sirius.
The facts are that XM was successful by itself without Howard Stern. In fact, the XM side of satellite radio boasted more subscribers than Sirius. Interestingly, the last time Sirius mentioned the statistics on the "Best Of Sirius" package available to XM subscribers, the numbers were at about 1 million. This is perhaps one of Sirius XM's better arguments to combat the litigation brought by One Twelve Productions.
The suit will likely be discussed on The Howard Stern Show (ch. 100 and 101) over the coming days, and certainly will get Stern fans in a bit of a tizzy. The irony is now Sirius XM has to prove how worthless Howard Stern is while he argues his greatness as he usually does. The suit could bring a wedge between Howard and Sirius XM just as the new five year deal gets underway.
Should Howard get to count a bunch of subscribers that do not even have access to his channels? Will Sirius XM stock (NASDAQ: SIRI) be impacted by the negative news about one of their premier talents suing them? Will other personalities view this as a reason that perhaps they should not sign with Sirius XM? At stake are stock options numbered in the millions, possible dilution, and the company having to account for these in their previously outlined positive numbers for 2011.
[via TMZ ]
Position - Long Sirius XM Radio