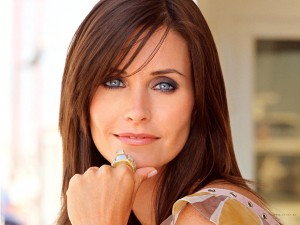 It was an event that EVERY television and radio show would have loved to have. An interview with Courtney Cox and David Arquette at the same time. The Hollywood couples troubled relationship has been widely discussed ever since Arquette made their separation public on the Howard Stern Show a few months ago. At the time, Arquette was viewed by many as over the edge and on a path of self destruction. Months later, and after rehab, the estranged husband of Courtney Cox is clean and sober and was a week long guest on the Howard Stern Show.
On Thursday April 14th, Stern had the media scoop and actually had Cox and Arquette in the studio for the first joint interview since their separation became public. The arrival of Cox came as a complete surprise, but the King of All Media jumped right into high gear, and began an interview that certainly made every other media outlet green with envy. Sirius XM subscribers got an EXCLUSIVE first hand look at the couple and heard the story straight from Courtney and David. It was not radio gold... it was radio platinum!
After months of speculation about who Cox and Arquette were each seeing, whether new relationships were blossoming, and David's very public rehab, the couple got very real and very deep as they seemed to be in a therapy session with Howard. What did we learn? That Cox and Arquette still care deeply about each other, but that the relationship could well be over. We also learned that Cox is not seeing anyone, nor has she slept with anyone at all, let alone one of her co-stars on her television show CougarTown (a subject brought up on the Show and throughout the media). We also learned that David wants very much to re-kindle the flames with Courtney, but has also accepted that things may simply be beyond that at this point.
It was obvious that the interview was in no way scripted. Howard Stern, as only he can do, took the subject into what was previously uncharted water with the couple. He was able to glean intimate details from both Courtney and David, which at times seemed a bit uncomfortable with the direction of the interview but were gracious in answering all questions.
Some will debate whether Howard Stern was worth signing to a second 5 year deal. For the nay-sayers, it is interviews such as this that demonstrate his true value. Clearly he carries the ability to not only get top notch guests on his show, but to also get the in-depth information that others are simply too afraid to do. This is the type of content that makes Sirius XM the PREMIUM audio entertainment provider and why satellite radio continues to grow in recognition and popularity.
If you missed the interview be sure to tune in Friday April 15th for the Best Of The Week. The Cox/Arquette interview was certainly one of the highlights of the week.
Position - Long Sirius XM Radio