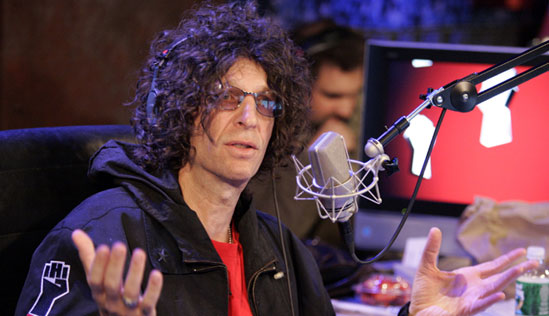 He is called the King of All Media, and his radio show is now beginning its third year of a five year deal on Sirius Satellite Radio. Howard Stern, a staple on the Sirius channel line-up has great things planned for 2008. Sterns show at Sirius delivers cutting edge content unrestricted by censorship, and many listeners have heralded the Sirius version of Stern as something they have been yearning for.
Source: SIRIUS Satellite Radio
On January 9, 2006 Howard left his long and dominating reign in terrestrial radio to launch his show on SIRIUS in one of the biggest media events of the century. He was joined by longtime co-hosts Robin Quivers, Fred Norris, Artie Lange, and producer Gary Dell'Abate.
In the 730 days since Howard has been on the air at SIRIUS, the number of SIRIUS subscribers has surged to over 8.3 million.
"Howard Stern revolutionized broadcasting, and at SIRIUS he has redefined radio," said Scott Greenstein, SIRIUS' President, Entertainment and Sports. "Howard and his team continue to build the future of radio."
At SIRIUS Howard has been able to deliver more to his fans than ever before. Having two dedicated Howard channels -- Howard 100 and Howard 101 -- makes it possible for SIRIUS to replay The Howard Stern Show all day and night.
In addition, The Howard Stern Show is available online worldwide through SIRIUS Internet Radio at www.sirius.com, as well as at www.howardstern.com.
In December 2007, SIRIUS premiered The History of Howard Stern, an unprecedented radio documentary celebrating Howard's life and career. The History of Howard Stern was produced exclusively by and for SIRIUS for the Howard Stern channels, and is representative of programming that could only be done at SIRIUS.
The first installment of this epic series -- "The Early Years" -- spanned Howard's birth through his infamous days at WNBC Radio in New York City, and featured never-before heard audio and exclusive interviews with David Letterman, Pam Anderson, Alec Baldwin and other celebrities. The second installment of The History of Howard Stern will debut in December 2008, and future installments will follow.
In the past January announcements regarding Howard Stern have come coupled with a bonus. This year, the bonus is absent. Sterns contract called for guaranteed components as well as bonus components for Sirius exceeding specified subscriber targets. These targets were established at the time the deal was structured and were based on consensus analyst projections of subscribers plus a number those estimates must be beaten by for the bonus to kick in. In January 2007, when the bonus for 2006 was paid, Sirius announced that the targets for Stern will be substantially more difficult to obtain going forward. It appears even while Sirius exceeded their own guidance, that no 2007 bonus is in the cards for Stern. From an investors standpoint this means that no additional shares will be issued (last year Stern received a bit over 22,000,000 shares as a bonus).
Position - Long Sirius