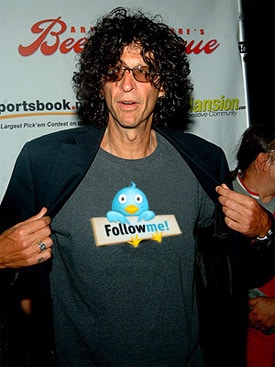 After years of pointing out what a stupid, pointless, waste of time Twitter was, Howard Stern has once again changed his tune and decided to embrace the social media giant. The master of flip flopping made the leap yesterday morning but, assures fans that he is simply there to follow some funny people.
Apparently his fans don't care because after mentioning the account @HowardStern on his show this morning, the King of all Media has been adding new followers at a rate of around 1k per hour.
So far Howard is only following a select few including, Roger Ebert, Steve Martin, JD Harmeyer, and Twitter Co-founder Biz Stone. One has to assume that last one might be there because someone at Twitter setup and secured this new account.
How long it will take Howard to finally cave and do some tweeting is anyone's guess but, we can only hope he will. The added exposure would mean nothing but good things for him and the Sirius XM brand.
UPDATE: Howard amassed 30k new followers in the last 5 hours and has already tweeted 3 times. That didn't take long.